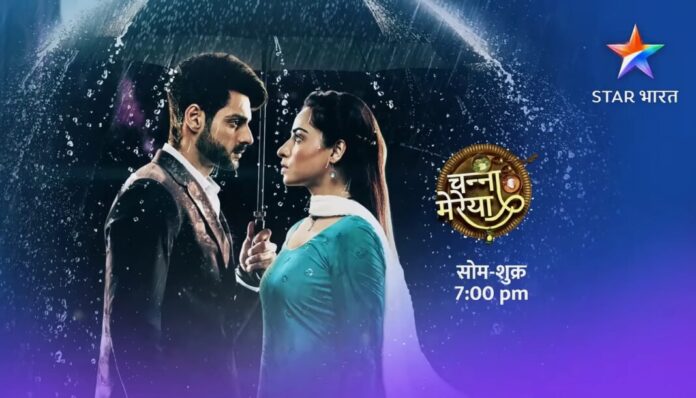 Channa Mereya Upcoming Story, Spoilers, Latest Gossip, Future Story, Latest News and Upcoming Twist, on Justhowbiz.net

The episode starts with Supreet informing to Ginni that Sonia is Grandpa's friend. She is going to visit our house to attend a meeting. She might follow their culture. Our business depends on this meeting
Ginni questions her what's she trying to say she doesn't have culture? Nothing to worry she won't create any unnecessary drama here.
Shailaja provokes Supreet against Ginni by saying they won't loss anything in it. But our business depends on it. Sonia not only a friend of grandpa but she is a investor too. She advise her to take care of this deal. Meanwhile, Supreet suggests Amber and Aditya to eat something before Sonia reach here. They won't get time to eat anything. Amber says to Aditya that he collected every details of Sonia's investments in our company. Aditya says that she got profit in her every investments.
Supreet asks him what will she answer to our line? He says that he doesn't know what to do about it? Sonia doesn't like his way of talk. Amber says to Ginni's family that Sonia will reach here in few minutes. This contact is important to him for his business. He is not able to accept a small mistakes happen in it. Ginni's family didn't give heed to them. Shailaja says to Amber that she isn't coming here as a family friend. She is a investor don't forget that. She doesn't want to see any new drama. Akash shares his thoughts to Amber. They heard car sound and rushes out.
Amber family greets Sonia and welcome her. She recognises Aditya and praised him looking handsome. She says to him that Rajvant shared manythings about him. She only saw him in his childhood photo. She adds that she never expected to meet Rajvant in such situations. She inquires Aditya about his health? He shares to her that he is doing better but still not out of danger.
Several years ago he accepted his son demand. This is the result of his demand. Aditya takes her inside the house. Supreet says to Shailaja that Rajvant said to her she is like a celebrity. Shailaja says to her that she fears that she will leave from there seeing mom and daughter drama. Surprising everyone Ginni's family welcome Sonia grand way. Sonia liked her decorations. Shailaja says to Supreet that she is talented one in impressing others.
Ginni takes Sonia's blessings and introduced herself to her. Sonia says to Ginni that she is spreading love. She greets her mom. Amber asks Sonia to reads the contract. If she likes it just sign in it. Supreet agrees with it. Sonia clears to her that she isn't here to sign in any agreement. She wants to talk with Aaditya and Ginni in alone. Aditya takes them from there. Amber doubts what's she trying to convey them in secret. Later, Sonia says to Ginni and Aaditya that she is well aware that both of them are strong. She wants to share something important to them. May be her words won't impress them. If she has some other option in her hands she wouldn't have bring this topic here. Aditya asks her what's going on here?
Shailaja creates a scene. She complaints that she advised them to don't call her here. She adds that everything happening because of this mom and daughter. Amber says that he won't leave anyone here if he don't get that contract. Ginni's mom gives a fitting reply to them. Gurleen asks them to calm down. Sonia wishes to meet Rajvant alone. Amber demands Aditya to share with him what's going on here? Aditya says to him he isn't able to reveal it now.
Ginni says to her mom that god is here. He heard their prayer. If someone tried to pulls down their legs. They will get punishment like this. Aditya argues with her and leaves. Supreet says to them that they are not able to do anything until she leave from here. Later, Sonia shares her grief to them and asks them to take a proper care on Rajvant and leaves from there. Aditya asks Ginni to stop this drama now. He refused to reveal the truth to Amber.
Later, Ginni feels like someone following her. He kidnaps her. Ginni starts beating him for kidnapped her. Aditya reveals to her that it's him. Both hugs each other. She shares to Armaan that Sonia United them. She revealed to them someone betrayed Ginni's father. She handover the letter to Ginni. Someone intentionally accident him. There is someone trying to kill him. Ginni shares her doubts with him.
Episode end
Precap: Aditya will bring the doctor to check Rajvant. Amber will inquire him what happened to him? Aditya will reveal to him that Rajvant got consicous but he said to him that someone trying to kill him.
Click to read
Channa Mereya 9th November 2022 Written Update: Ginni's nightmare makes her feel restless