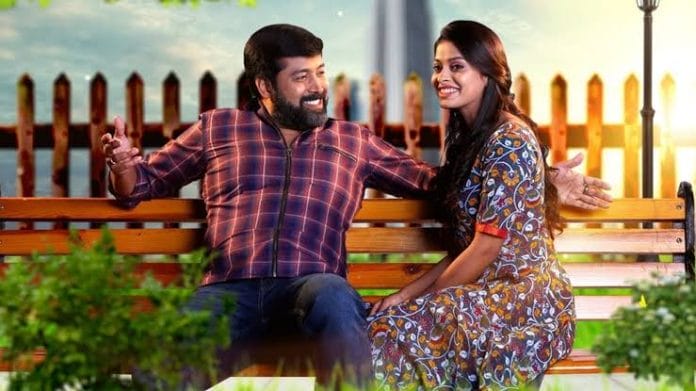 Neethane Enthan Ponvasantham Upcoming Story, Spoilers, Latest Gossip, Future Story, Latest News and Upcoming Twist, on Justhowbiz.net
The episode begins with Ramya and advicing Anu to go and meet Surya before 6pm. Any says she decides to follow what Swamiadi told her and visit the temple. She believes God will show her the path.
Sharda notices a sad Surya and questions him. Surya says he is fine and keeps checking time on his watch. Sharda asks if he is going to meet someone since he keeps checking the time. Surya denies. Sharda says they are going to the temple to thank God and asks Surya to accompany them. Surya asks them to go. Sharda insists Surya to come and the latter agrees.
Subu comes home and questions Pushba why she called him 30 times. Pushba informs him that Anu wants to visit the temple today. Subu questions why today. Anu says not to question her and asks him to get ready fast. Subu asks Anu if she is fine. Anu assures she is fine and she is determined to visit the temple today. Ramya angrily leaves. Pushba says to Subu that today is Ashtami and not to question Anu and asks him to get ready.
Chandra says to Mansi that he won't leave the people who deceived him. Mansi tries to stop him, but he leaves the place. Sharda asks Mansi to get ready for temple. Surya, who comes there, asks at what time they go to the temple. Sharda says they will wait for Mansi to get ready. The latter says she is not coming since Surya is coming and ridicules him. Surya says he is not coming and asks Sharda to go with Mansi. The latter goes to get ready. Sharda says she is sad that Surya is not accompany them. The latter consoles her.
Pushba asks Subu to watch over the milk on the gas not to overflow as she is going to get ready. Subu says they didn't yet get ready and asks where Any is. She taunts him and says Anu may went to her friend's house and goes to her room. Subu reads the newspaper didn't check the. Pushba comes and see milk overflowing. She scolds Subu. The latter says he was reading employee wanted add given by Surya Company so he forgot the milk. Pushba scolds him for being irresponsible.
Any comes home. Subu says the bus for the temple is at 4:30. Anu suggested to go on a cab since they have to visited the temple before 6pm. Subu agrees. Any books the cab. Later they started to the temple in the cab.
Sharda tells the Periyavar to take care of Surya since he is at home. He asks Surya is not going to the temple. Sharda says Surya said he didn't come. She calls Bindu and questions if she packed all the necessary things for Puja. Bindu says yes. Sharda checks the puja sari and they all leave for the temple.
Surya is pacing back and forth lost in his thoughts. He keeps looking at his watch. On the otherside Anu and her family is on the way to the temple. Any recalls her challenge to Surya of not talking to each other for the next 24 hours.
The episode ends.