Fever of AVNEIL aka Avni and Neil of Naamkarann is still on!
Starring Zain Imam and Aditi Rathore in the leads, Naamkarann was a great drama and fans of the show still miss the wonderful Jodi of ADIZA and the show off-course. The shows story is based on the life of filmmaker Mahesh Bhatt and it successfully ran for 2 years.
So, today will take you down to the memory lane of the story of Naamkarann. Right from why Avni's grandmother hates her to how Avni and Neil united- check out the story below and relive NAAMKARNN!
Story starts with Ayesha (Avni's mother) who marries to a famous film director Ashish Mehta but Ashish's mother refuses to accept the marriage because Ayesha was a Muslim girl. Deeply in love, Ashish comes to meet Ayesha and Avni hiding from his mother.
After Dayawanti learned that Ashish goes to meet Ayesha she forces him to marry Neela Parikh who was a kind hearted lady. Avni becomes friend with Neela and Neela helped Avni to raise her voice against Dayawanti for her rights. Here, Dayawanti plans Ayesha's accident and makes Ashish believe that Avni deliberately killed Ayesha. Furious Ashish sent Avni behind the bars for killing Ayesha and Dayawanti took Avni's brother (Aman) with her.
Fifteen Year later, Avni comes out from the jail and restarts her life. Avni used to steal the money from the rich people and used to donate that money to the hospitals. ACP Neil Khanna was given a duty to find out the culprit and the events bring Avni and Neil together.
Ahead, Neil and Avni get married and Neil gets a new case of Ragini Pandit, a human trafficking leader. Here, when Aman learned that Dayawanti was using him and she is the real culprit behind her mother's death, Aman burned Dayawanti alive. Avni tells to Aman that she is proud that he punished Dayawanti
Later on, Avni and Neil fell in love each other and like other love story the duo was separated due to a huge misunderstanding when Avneil tried to unite Mishti with his father Vidyut. Vidyut forced Neil to put Avni behind the bars for killing Juhi. Six months later, Avni proved her innocence and left the city with Mishti.
Here, Neil too quits his job and becomes radio jockey. Avni again started her new life and serve at the orphanage. She changed her name to Neelanjana. Further, Mishti too changed her name as Sayesha. Sayesha is shown devoted fan of actor Karan Kapoor and after series of event, she gets pregnant with his child.  Avni and Neil comes together again to unite Sayesha and Karan when KK's mother refuses to accept her.
Afterwards, Avni decided to leave the city with her and Neil's son Mowgli. Here, Neil too decides to move on in his life and nods yes to marry Mitali. On the marriage day Mitali ask Neil to go back to Avni, as his real happiness is with her. Show ended on a happy note with Anvi, Neil and Mowgli's reunion.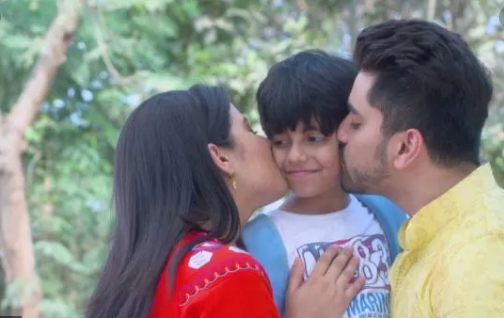 How much you miss the show and the Jodi of AVNEIL, shoot your views in the comment section below.
Stay tuned with us for more news, spoilers and latest updates.