Underwater scenes of this couple surely set the screen on fire. Here, we bring to you list of few on-screen couple who mesmerized us with their pool romance.
Riddhima and Vansh: Ishq Mein Marjawan 2
Riddhima and Vansh are leading on-screen couple who is ruling heart. They surely set screen on fire with their romance. In the recent, past Vansh and Riddhima's not so romantic pool scene still burned the screen. Riddhima was angry at Vansh and accused him to be her parents murderer, still RiAnsh managed to bring out the underwater chemistry on fire. Devastated Riddhima was about to fall in the pool. To catch her, Vansh fell in the pool along with her. Wet RiAnsh was a treat to watch!
Shivay and Anika: Ishqbaaz
ITV's hottest couple Shivay and Anika has always left audience awstuck with their romance. Pool romance of Shivika is fans personal favorite. Anika had aquaphobia, Shivay attempts to help Anika overcome her aquaphobia. He along with Anika jump into the pool. Anika not only over come from her aquaphobia; Shivika also set the screen on fire with their blazing underwater chemistry.
Mishti and Abir: Yeh Rishtey Hain Pyaar Ke
Mishbir is fans all-time favorite couple. They hold a special place in audience heart. Mishti and Abir's separation track was enjoyed by the fans. Mishti fell in the pool while chasing Nannu. Abir without wasting a single minute jumped into the pool to rescue her. Wet Abir and Mishti was too hot to handle. Duo surely burned our screen.
Chamcham and Yug: Namak Issk Ka
They are making place in audience heart. Chamcham and Yug hate-love story is fetching audience attention. In the recent past, Chamcham tries to escape from Yug post she secretly performed pre-wedding ritual with Raunak. Chamcham to wipe turmeric paste from her body jump into the pool. Yug see Chamcham struggling inside the water jumps into the pool and bring her out. To bring back Chamcham back to life, Yug gave her his breathe. Loyal fans enjoyed pool side romance of Yug and Chamcham.
Kartik and Naira: Yeh Rishta Kya Kehlata Hai
Star Plus longest running show has audience heart as it showcases the journey of Karitk and Naira. Kaira is soul of the show. Duos Greece moment is fans all-time favorite. The pool dance on 'bahon mei chale aao' was dreamy indeed. Fans adored the beautiful location as well as adorable Kartik and Naira in the scene.
Roshini and Aman: Yehh Jadu Hai Jinn Ka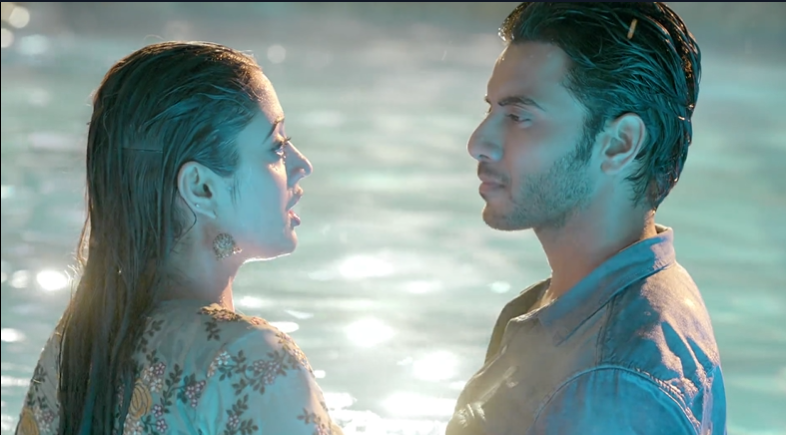 ITV magical couple Aman and Roshini captured audience heart with their magical performance in the show throughout. Roshini gets smitten seeing Aman's magic and accidentally falls into the pool. Aman gets smitten with Roshini's beauty in the water and jumps into the pool too. Duo closeness inside the water was breathtaking.
Avni and Neil: Naamkaran
ITV one of the most adored couple Avni and Neil never failed to smitten the audience with their romance. Avni and Neil went for a case and celebrate their honeymoon too. Avil fell in the pool out there at resort. Neil jumps to save Avni as she was struggling to come out from the water. Right from eye-lock, fall and catch; each water moment to Avni and Neil made fans to drool over the couple.
Manik and Nandini: Kaisi Yeh Yaarian
Last but not the least; the intimate pool holi sequence of Manan surely stopped the heartbeat of audience. The way Manik applied color on Nandini it was truly sensuous to handly. Manan has always set romance bar high.
So, Choose your favorite couple whose underwater chemistry you found hot
Stay tuned with us for more news, spoilers and latest updates.