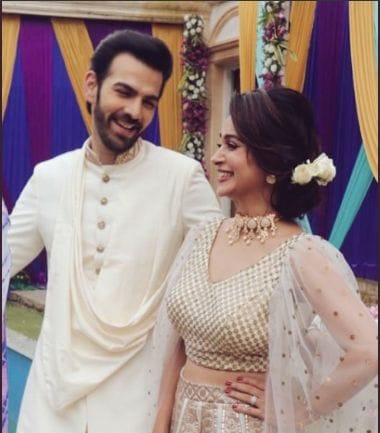 The countdown to the most favorite current couple Rohit and Sonakshi's wedding finally begun. Ronakshi of Star Plus most popular Kahaan Hum Kahaan Tum is all set to tie the knot and the duo is currently enjoying their pre-wedding functions.
So far, Rohit and Sonakshi's engagement happened after a huge drama. Sonakshi's stalker Mahesh harassed Sonakshi and tries to get closer to her. Rohit reached at the right time and saved his lady love from the Mahesh and later on, the duo exchanged the rings with each other.
Rohit in the show will soon turn Sonakshi's body guard and other side, Sonakshi will turn Sardarni to catch the obsessed Mahesh. The duo will get succeed in their mission or not time will only tell. But fans of Rohit and Sonakshi will witness another pre-wedding function of RONAKSHI.
Actor Karan V Grover, who in the show plays a character of Dr. Rohit Sippy has shared a glimpse from the upcoming sequence in the show. The video is from the upcoming Sangeet ceremony of Rohit and Sonakshi and the duos performance is melting down the hearts of the audiences.
Karan V Grover quoted "Coming soon… On
#kahaanhumkahaantum
@ms.dipika
@sandiipsikcand
#Ronakshi #shaadi #dance #sangeet
#DrRohitSippy #karanvgrover #kahaanhumkahaantum #KHKT #starplus #hotstar"
How much excited you all are for this upcoming Rohit and Sonakshi's performance, share your views in the comment section below.
Ronakhsi wedding pictures are out too. If you haven't yet checked it, see it below.
Well without a doubt Rohit and Sonakshi is looking a true gorgeous and now it will be interesting to watch what more twists and turns will come in the show to make you sit on the edge of your seat.
For all the entertainment keep watching the show Kahaan Hum Kahaan Tum, mon-fri on Star Plus.
Stay tuned with us for more news, spoilers and latest updates and gossips.