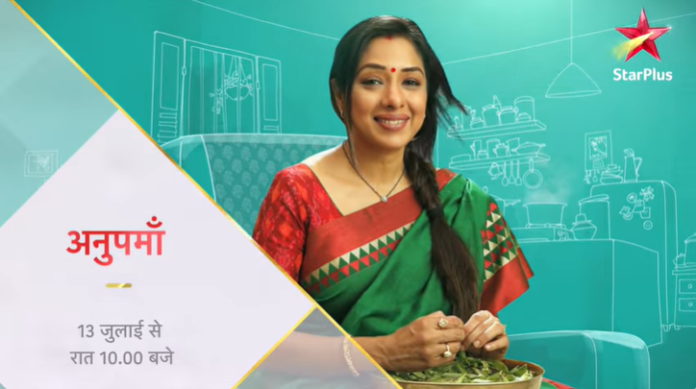 Anupama Upcoming Story, Spoilers, Latest Gossip, Future Story, Latest News and Upcoming Twist, on Justhowbiz.net
Episode begins with Leela was struggling with her leg pain. Anupamaa comes there with oil to give massage to her legs saying she knows that her legs will pain after that musical chair game. Leela says Anupamaa is useless daughter in law but not that much and wonders how 25years passed tolerating her.
Anupamaa says it's feels like just last week she got married and 25years passed already. She says she knows that she was not Leela's choice and when she got married her mother told her to treat mother in law as mother because winning mother's heart is easy. She says she failed to win her heart in these years after all her efforts and asks did she even have small place in her heart.
She asks this time she likes her as Vanraj's bride or not. Leela says she doesn't dislike her, hearing that Anupamaa smiles and says it's enough for her. Kavya says Leela forgive her and soon she will start to like her also. Vanraj says he is happy that Kavya apologized to Leela. She says Leela is her mother in law, how can she make her angry which shocks him. She asks why he seems tensed it's not like she is going to tell that she is her daughter in law.
She says even though she is a modern girl but her dreams also traditional only like everyone. She says she is happy that he is going to tie nuptial chain on her before Anupamaa and tells him to bring a simple nuptial chain for her saying groom family only has to buy that according to the rituals . He agrees to buy nuptial chain for her. Pakhi reminds Kavya about Anupamaa's mehandi and tells her to reach on time.
Kavya says his family behaving like first time his marriage happening and it's so stupid. He asks then what about her wish of wearing nuptial chain before Anupamaa. He says it's stupid but cute also which makes her smile. She tells Vanraj that their wedding also happening so she has to put mehandi on his name after all she is also a bride and hugs him. Anupamaa thanks her for supporting her in all the difficult times and also for giving world's best gift to her.
Leela gets confused hearing her and asks what gift she gave her. Anupamaa says she is talking about Vanraj and gets shy. Leela blesses them to stay together for forever. She reminds her that tomorrow is her mehandi and tells her to take rest. Jayesh and Leela's brother overhears their conversation and feels happy for Anupamaa.
Next day, Leela tells them to start the mehandi ritual. Pakhi meets Kavya. Samar was searching Nandini. Paritosh notices that and asks Kavya about her. Kavya says she will come after some time and Samar gets excited hearing her. Kinjal tells Paritosh that after some days their mehandi function will happen. He says nothing can beat the happiness of seeing his name in her hand.
Leela asks Kinjal about Rakhi. Kinjal says Rakhi is busy with some meeting so after finishing it she will come. Vanraj informs Kavya that he brought nuptial chain for her and if she wants she can see that in his car. She gets happy and thanks him. Anupamaa's mehandi ritual begins.
Kavya deliberately puts her hand on Sanjay's daughter hand which has mehandi. She gets happy seeing mehandi on her hand and shows it to Nandini who just came there. Nandini goes to Samar but youngsters takes Samar with them. Dance performance begins.
Kavya dreams of dancing with Vanraj. Samar gets emotional and thanks Vanraj for giving this happiness to Anupamaa saying she deserves all this. Vanraj says if Anupamaa is happy then he is also happy. Rakhi shows Anupamaa and Kavya's hand to everyone and they shocks seeing Vanraj's name in Kavya's hand.
Episode ends.
Precap – Kavya spoils Anupamaa's mehandi deliberately.