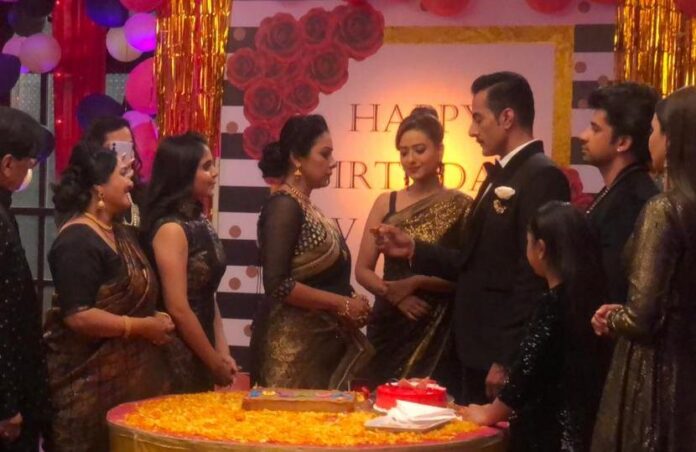 Anupama Upcoming Story, Spoilers, Latest Gossip , Future Story, Latest News and Upcoming Twist on Justshowbiz.net
Today's episode starts with Kavya saying to Rakhi that if she wanted to hear all those thing than she is wrong as she is not planning to harm anyone. Kavya says she is not daily soap vamp but a normal girl who wants a normal life and Vanraj in her life. She adds she remembers Anupama's word where she made her understand that a man can never leave his family for anyone just like woman do. Kavya says if along with Vanraj she has to accept his family too than she don't have any problem. Rakhi says to Kavya that she is still doing acting. Kavya asks Rakhi to think whatever she wants to think. Ahead, Pakhi introduces Leela and Hasmuk. Leela and Hasmuk dance on Vanraj's birthday occasion. Shah's dance along with Vanraj. Kavya dance around Vanraj and everyone stands shocked. Pakhi see Anupama standing alone. She calls Anupama to the dance floor and asks her to dance too. Anupama about to leave. Leela asks Anupama she teach dance to the world but not dancing at home party. Anupama says her family is happy than why she will not dance. Anupama gives a solo performance, song 'aaj phir jeene ki tammna hai' plays in the background.
Rakhi says to Kavya that while she was dancing all were stunned. But when Anupama is dancing all are enjoying. Kavya asks Rakhi not to put oil in the fire when there is no fire only. Anupama dance and Vanraj see her. Shah's dance together yet again. Kavya enters the group and dance with Vanraj. Pakhi walks out from the place. Kavya goes behind Pakhi. Pakhi asks Kavya can't she see Vanraj is happy with his family. She gets angry on Kavya. Kavya asks Pakhi why she is misbehaving with her. Pakhi asks Kavya not to pretend she is sweet. Kavya asks Pakhi not to mess with her else she will separate Vanraj from her too. Furious Pakhi splashes cold drink on Kavya's face. Kavya shouts and everyone gets shocked.
Kavya manipulate the situation and speaks against Pakhi. Anupama asks Pakhi to apologize to Kavya. Rakhi says now Kavya will do drama. Pakhi says to Anupama that she is not lying. Anupama says no matter what but she can't misbehave with anyone. Pakhi apologize to Kavya. Kavya says to Anupama that she didn't taught Pakhi good manners as she is rude. Pakhi reveals to Anupama that Kavya don't like her thus keep she has issue with her. Vanraj support Kavya over Pakhi. He says Pakhi is stubborn like Anupama and quotes like mother like daughter. Shah', Anupama and Pakhi stands shocked. (Episode Ends)
Precap: Kavya reveals to Rakhi that post her wedding with Vanraj she will avenge Shah's. Anupama overhears the talk.