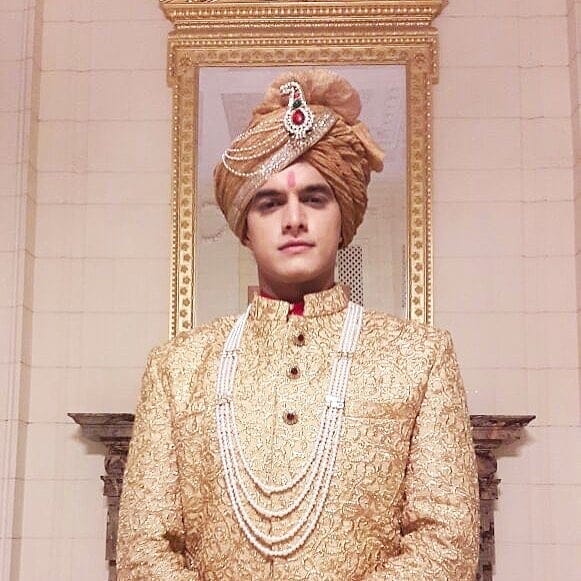 It is often seen during wedding season that girls are very much concerned about their looks which is absolutely true but there is a myth, That the boys does not matter more than his looks. While the truth is that in today's time, boys also give their attentions to their looks as much as girls. So today we have brought the boys specially for you super handsome and stylish Mohsin Khan aka Kartik from serial Yeh Rishta Kya Kehlata Hai's wardrobe with some fabulous designer pieces that are perfect for every wedding ceremony.
For Engagement
This stylish blue sherwani with a mirror-like glow with white salwar and black mojri combination isn't Awesome?
For Mehndi

To make you a total cool dude in Mehndi, you have this White kurta with this Green Salvaar  In which you will not only look stylish, also you are going to attend a traditional function, so you will also get an Indian Touch.
For Sangeet

This White Kurta-Pajama with this jawahar neck, ruffly checked sky blue jacket. This attire gives you style, perfection and an eye-catching look in Sangeet, so definitely think about it.
For Bachelors Party

Now it is the turn of the Bachelors party whose boys gang eagerly waits at every wedding but don't worry because we have arrangements for this too. If you wear this black printed suit at a bachelors party, whether it is your own or the of someone you know, it will add the fire in your look.
For Haldi

This simple and sweet Yellow Kurta, which has this beautiful embroidery, and it's goes amazing with this Black Salvaar is the very right choice for Haldi.
For Varmala Look

This maroon color sherwani is for the time of Varmala, with this cream color pajami. This whole attire will give you a good look at Varmala, so try this.
For Wedding Night

Now it is the turn of today's main attraction and that is this royal golden sherwani which is adorable and awesome. That the words fall short of praising it, if you are going to get married and you are going to wear it then nothing can be better than this.
For Vidaai

After this comes the turn of Final look i.e Vidaai look for which it is sleek and comfortable grey checked coat. Because after attending so many wedding functions and rituals, the body needs some relaxation for which this coat will be perfect and will not let your look down.
So Gentlemen, these were some of our wedding attire suggestions for you, comment below and tell us which of these was your favorite one. Let's get buzzing…!!!