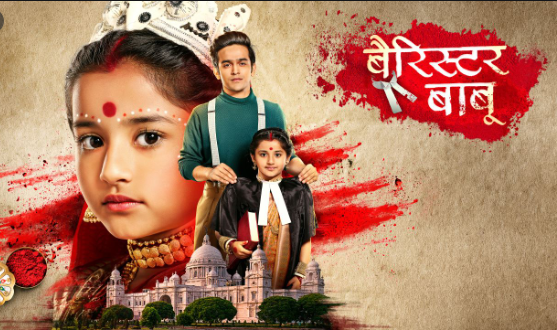 Barrister Babu Upcoming Story, Spoilers, Latest Gossip , Future Story, Latest News and Upcoming Twist, on Justhowbiz.net
Episode starts with Bondita noticing villagers. She recalls Anirudh's words that villagers can harm her. Bondita shouts Koyeli but nobody comes. Bondita locks the door and window. Angry villager tries to break the door. Bondita feels they can enter through window she should hide. She searches for a place where she can hide. Villagers breaks the window and barged into the room. Bondita hides in cupboard.
Anirudh slips while entering the haweli. He gets hurt and is unable to move. Villagers say that Bondita will die today for going against society rules. She is sinner. Bondita waits for Anirudh to come. Villagers open the cupboard and find Bondita. Bondita gets shocked. Anirudh somehow manages to get up and goes to save Bondita but notices her broken bangles. Anirudh gets worried for Bondita.
Villagers lock Bondita in a hut. Bondita calls for help and asks what's her fault? Villager says you committed sin, you deserve to die. You can't inspire others to take stand. Villagers spread kerosene on the hut. Bondita says I didnt do anything wrong. Latter says yes you broke our ancestors' rules, you have no right to do that. Bondita asks who are you punish me? God has given intelligence to us, we can take our life decisions.
Latter replies women can't be equal to men, girls like Bondita who raise their voice should be burned to death. Bondita gets shocked and tries to come out. She shouts help me Patibabu. Villagers get ready with the fire torch. Anirudh pours water on fire torch and fights with the villagers. Villagers say we should beat Anirudh as well because he only encouraged Bondita. They start beating Anirudh badly. Bondita comes out of the hut somehow and throws dust at villagers eyes. She saves Anirudh and they run off.
Anirudh takes Bondita to a hotel. Bondita thinks its a hostel. She says noone is studying here. Anirudh says its a place where people can stay for some days or can take rest. Bondita says in her village villagers give shelter to each other. Anirudh says but here we don't know anybody. He reveals they can't go to Dalhousie as people know about the place already. They will go to Siliguri. Anirudh says noone knows we are here. after twelve hours we'll reach Siliguri. Bondita thinks after 12 hours she won't be able to see Anirudh. Anirudh tells her to change clothes. Later, Anirudh tells Bondita to sleep on bed but Bondita says you will sleep on bed not me. Anirudh says Bondita has interview tomorrow. She will prepare well and get admission in boarding school.
Bondita says I don't want to sleep today as its last day of us staying together. She says she wants to cherish their memories. Anirudh gets upset. Bondita again stops herself from saying Patibabu. Receptionist brings food for Anirudh and Bondita. Bondita says its looking beautiful, as if we are having English breakfast. Anirudh says he will teach Bondita about table manners. How to eat using fork and spoon. Anirudh explains and Bondita thinks she wants to make this special moment memorable.
The Episode ends