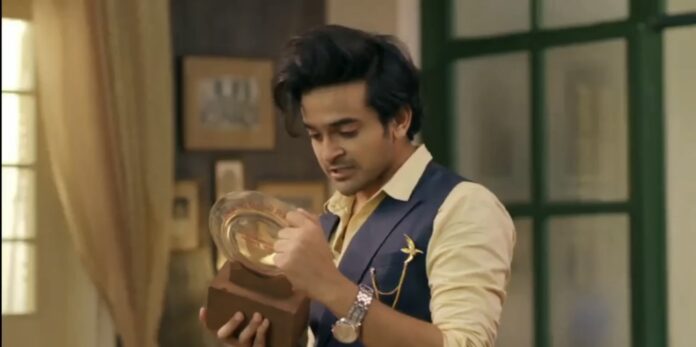 Barrister Babu Upcoming Story, Spoilers, Latest Gossip, Future Story, Latest News and Upcoming Twist, on Justhowbiz.net
The Episode starts with Bondita overhearing Batuk and Trilochan's talk. Batuk plays a recorder where Bondita is giving a speech for widow rights. Bondita says a mother has to take care of her child It doesn't matter if she's a widow or a single mother. She deserves to stay with her child or can remarry. Batuk tells Trilochan that Bondita will not give her child to them after she knows that Anirudh is dead. She will also remarry and will leave the house with the child and he asks Trilochan if he wants it. Trilochan says not at all.
Batuk replies Then he has a plan where he will behave nicely with Bondita until he gets the child from her and then she'll be thrown out of the house. He instigates Trilochan against Bondita. As he also wants Anirudh's child in the Haweli. Bondita gets disheartened hearing all of that. She leaves from there and starts crying and there Anirudh tries hard to write complete Letter to Bondita. He writes he misses her a lot. RamDas asks him who is Bondita, if she is his wife. Anirudh gets delighted. Ramdas asks him if he can remember anything more. But he remembers only small details.
Bondita prays to God. She holds diya and says Batuk made every family members go against her but she won't give up. She believes Anirudh is alive and she won't give her child to anyone. She hopes for Anirudh's return. Bondita sits in room and Batuk comes in. Bondita says she ate food and medicine. He acts like he cares for her. He says he is sorry for previous misbehavior. He says he has a surprise for her. Bondita thinks she will learn the truth by faking to forgive him. Batuk blindfolds her and takes her out. He shows her rasgullas and laughs. Bondita gets surprised and recalls her childhood memories with Anirudh. She goes inside and gets emotional. She says she won't eat rasgullas unless Anirudh buys for her. She misses him and there Ramdas forces Anirudh to remember the place he is from but he gets restless and says he is unable to remember anything. Ramdas calms him down. Dugga Ma's flower falls and Bondita understands its a sign Anirudh is alive.
Next day Bondita acts like talking to someone over phone who says Mallika was seen near British library. Bondita talks when Batuk notices that. Batuk gets angry and thinks to teach lesson to Mallika once and for all. Bondita acts like getting surprised. Bondita writes a letter stating she is leaving to find Anirudh. She will miss Roychowdhury members a lot. But she has no other choice. Batuk learns Roychowdhury area telephone is not working. He goes inside the Haweli and stops Bondita from leaving. He asks her what she is doing. Bondita gets mad at him for his cheap act. She says he can never be like Anirudh who always fought for the right thing and supported women empowerment. But Batuk is opposite and a shameless person who is against his own family member and how dare he touched her. Batuk says he hates Bondita. Bondita replies the same. Batuk says Anirudh did a lot for her but in return he got nothing but death. Bondita says Anirudh is alive she is sure about that. She shuts him up.
Episode ends