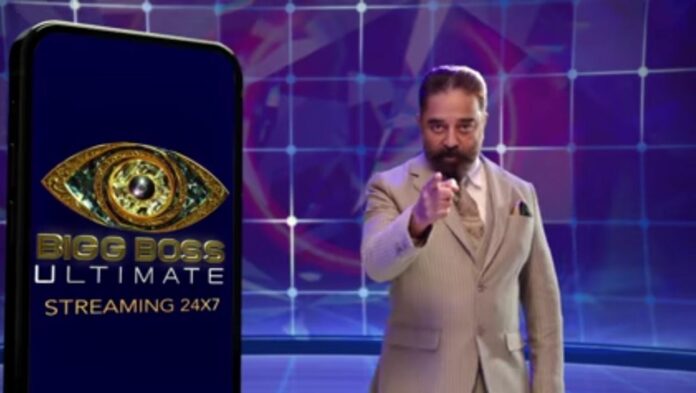 Bigg Boss Ultimate Tamil Upcoming Story, Spoilers, Latest Gossip, Future Story, Latest News and Upcoming Twist, on Justhowbiz.net
The show begins with Kamal Hasan enters on the stage and greets the audience. He says to them that usually arguments starts in 50th episode in the house but here it started in the first episode itself. It's like 20-20 cricket very hot inside. He says let's talk with the housemates. He greets the housemates and they smiles seeing the coffee in his hand. He talks with them in funny way for bringing coffee matter there. He appreciates Sariq to attend the first call and become a first captain of the house. Shariq says he attended it casually but he got the chance. Kamal asks to them how was the first week experience inside the house. They says to him its so interesting to stay here because there is no boring time always problems are there to solve.
Bala says that its quite interesting to stay here because all are experienced persons here but it's more then like a roller coast. Daily new problems and trying to solve it.
Kamal says to them that Bigg Boss never take back the things which gave to them. Kamal says that all are saying rain is not here but comparing to others here raining well but they don't know to utilize it. Same way here enough coffee powder was there but they didn't rationed it well. Niroop says to him that Vanitha thought she will get things if she protest it. He asks Snehan to say about it. He says to him that all are scared of Vanitha it seems including Shariq. Kamal says that he is appreciating her protesting but she might use it in another platform. He says Niroop saved from eviction. He thank the people whom voted him he says that his plays yet to see. Vanitha says that its wrong sir when they offered tea powder to them why don't coffee powder. Kamal says it's correct but it's wrong to hide it. They makes fun with kamal takes a short break. Housemates congrats Niroop for saved from eviction. Housemates shares the coffee and drinks it happily.
Kamal enters into stage and talks with housemates. He appreciates them for choosing old person to become a captain. He says to them that Shariq's captaincy one things is missing but they didn't searched the things carefully. Shariq says it's correct she lied to them but unfortunately they belied her words.
Kamal adds that he said in press meet he will work hard always but he don't understand it. Shariq says to him that he didn't stand strongly on that incident. Kamal adds that he didn't even used the facilities he had on his captaincy. He adds that he didn't even punished the people whom doing mistake. Shariq says to him that he was a young boy so they didn't treated him in that way. He says she is not a matter here. Everyone should accept the mistake and move on. Kamal asks him them to give mask to Shariq captaincy
Abirami gives 5 marks to Shariq reasoning he used to treat everyone equally. He was silent in her matters that was disappointing. He didn't voiced out when the problems was came. Balaji gives 3 marks reasoning he got the responsibility in the beginning itself because he don't understand everyone's character that's why he needs time. Kamal asks Shariq to say his opinion. He gives his explanation to him.
Snehan gives 3 mark to him reasoning all are experienced here but he didn't take it seriously. If he tried he can become a role model to others but he failed in it. Kamal says it's common to all they might take it seriously it's their responsibility to lead the house well. July gives 5 Mark to him reasoning he gave freedom to all to become close. He didn't doing many works because he is a captain. Kamal asks her to explain it. She shares toilet cleaning issue. Suresh says he is giving 6 to him reasoning captaincy is like a punishment to him because so much happened in this house but he couldn't handle it. If he get this in upcoming week he will do better.
Abhinav gives 5 mark to him reasoning he done his work well for 2 days after that he failed it seems. Thamarai gives 8 Mark to him reasoning he made sure everyone eat in house like a dad. He didn't have punishment that's why 2 mark less. Suja gives 5 mark reasoning he is not a good listener but he is a cool captain. Niroop gives 7 mark to him reasoning most of them praised his captaincy yesterday but they changed it now. He brings Bala's matter there. Shariq says to him that he punished him. Sruthi gives 7 to him reasoning he is not taking all positive here. Vanitha gives 9 to him reasoning she created the problems he talked with her clear and tried to solve the issues. All are saying about punishment but the problems would have turned bigger. Kamal appreciated her. Bala gives 6 to him for not cleaning the toilet and not properly taking care of rations. Bala explains to him that he done the punishment he said to her. Anitha gives 6 to him reasoning he done his work well as a captain but didn't complete the work.
Kamal asks them whom changed the mark after his speech. Abirami denies it. Kamal advise to them. Captaincy is a responsible job they might do it well it's not only Shariq job but everyone get chance to prove themselves. Many contestants has the ability to win the captaincy but didn't yet. Even they stayed inside the house for 100 days without become a captain. Kamal appreciates Thamarai for managing the situation well and not get triggered by Suresh. She thank him. Kamal appreciates Abirami for performed well as a star. He appreciates Anitha for performed well as a report so she is saved. Kamal says to them that many persons are not giving answers honestly. Bala asked to them that no one asked against Vanitha in fear he feels it as right. Suja also felt they didn't allowed her to ask question. Everything might go equally here. So here is he giving chance to them to question them. He asks them to take the identity card from store room.
Bala asks to Suja that there is a topic she is pre-order judging all and blindly supporting Suresh. Suja says to him its a good question. He is her relation actually but it's a golden opportunity to return to this house. She don't wanna miss this opportunity for anyone. She never go oppose to anyone here but she is standing for truth and questions against the problems. She is not here to maintain her relationship because she is here to play her game. If Suresh win in this show he won't give single penny to her. It's the truth same goes to her matter too.
Kamal says to them no one questioning Vanitha here. She says that she is giving answer to all. Bala asks to her in which confident she is thinking people will vote for her because she is not participating in morning task and hiding coffee powder? Vanitha says to him that She won't do certain things if she don't like it. She give her voice against the injustice to her. She is ready to accept the punishment too if she do mistakes. She mentions about dining table issue and says she won't do some things if they pays crores also because she is s parents also. She participate in this show 3 times. She never back off from her task and she gave her 100 percentage in the game. This time she is confident to win the show. Suja asks to her doesn't she playing well in the house and treating others equally then why did they scared of her? Vanitha says it's a scripted one according to her because she never used bad words or treated anyone badly here. All are mentioning this so it's not a advantage but a weight on her head. Thamarai says that she is not scared of her but she will give fitting reply to her if she mess with her.
Thamarai says that he asked her to finish it soon but she taking 30 minutes . Vanitha says that they will create another story if she don't speak much. Kamal asks the nominated people to sit together. He says that they wanna scan the identity card to find out whom got saved. Snehan hot saved, Suresh, Abhinav, Sruthi, July and Vanitha are not saved. He takes a break. Housemates congratulates Snehan for being saved.
Kamal says let's talk about award now. Getting award is not matter but whom giving it to them matters to him most. It's not an award but a title he likes that. He shares to them about one past incident. If they don't like the title they can deny it openly it's not a wrong thing. Kamal asks Sruthi to say about it. She says to him that all are eating, sleeping and cleaning so it's suitable to all. Suresh says that all the titles matches to him so he feels proud of it. Thamarai says to him that she got the award Ulagamaga nadippu she gives explanation to him. Vanitha says that no comments because she knew it she will get it. Abhinav says that he got basement weak but he don't think it's true. Shariq says to him that he got atta Kathi he takes it positively. Kamal saved Sruthi. She thanks the people whom voted her. Housemates congratulates her. Niroop says to Thamarai that she is still thinking her previous strategy will work out here. She says to him that she is not here he will support her. Both are arguing with each other over strategy. He explains to her what is real strategy?
Kamal enters into the stage and suggests the book to read. Kamal asks them to give the photo to the person whom feels missing inside the house. Suja says that she knew well about July but she is missing inside the house she is singing always here but her presence is less here. July gives her explanation to her. Vanitha mentions July's name reasoning she faced many situation boldly outside but she is silent here. Thamarai also mentions her. Abirami mentions Abhinav because he has the potential but he is not giving his full effort. July mentions Snehan name reasoning he is a fun person but kept silent in this season. He says to him that he is happy with his closed one. Snehan says Niroop name reasoning he didn't saw his gaming spirit in this season. Niroop mentions Bala name reasoning he is playing safe game. Bala mentions Snehan name reasoning he saw his season and thought he was a tough competition to him but he is silent here. Kamal teased him mentioning about his recent marriage. Anitha mentions Snehan name reasoning he has the potential to play but keeping silent. Shariq mentions Snehan name for same reason. Abhinav too has the same reason. Snehan gives his reason to it. Suresh too joins with them. Sruthi mentions Abhinav name. Balaji mentions Thamarai name reasoning he couldn't see the old season. Kamal saved July from eviction. Kamal gives advises to them one by one and saved Abhinav from eviction. Vanitha and Suresh are remaining he says that he will give the result after a break. Housemates congratulates Abhinav and July.
Kamal enters into stage and talks with housemates that Vanitha guessing the things already. She said there is no eviction in the first week. Kamal says to them expect the unexpected things. He says that today eviction is there. He shower Suresh name in it. Kamal saks him to come out and see him. Bigg Boss asks him to give his captaincy to someone. He gives his captaincy to Snehan. He asks Suresh to take his currency and come out. Housemates send off him. Later they discusses about the voting system. Kamal talks with Suresh about his experience inside the house. His journey plays there he enjoys it and leaves. Kamal says let's meet in next episode.
Episode end.
Click to read
Bigg Boss Ultimate Tamil 5th February 2022 Written Update: "Nee Athukku seri Pattu Vara Matta " Task