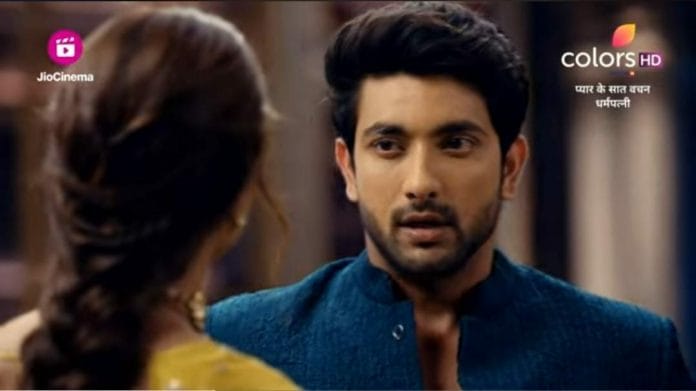 Dharam Patni Spoilers, Upcoming Story, Latest
Gossip , Future Story, Latest News and Upcoming Twist on justshowbiz.net
The colors show Dharam Patni is all about bad decisions, love and Pratiksha's fight for her rights.
Malhar commands Pratiksha to inform everyone of their affairs at the beginning of the episode. Malhar gets yelled at by Pratiksha, who tells him that he is incorrect if he believes that her family will buy into his nonsense. Malhar claims that while he initially didn't want to reveal everyone's private messages, he must do so at this point. Malhar displays the bogus texts to everyone.
Mandip confesses to Pratiksha her humiliation at Pratiksha. Manvi and Kavya continue to have a drama. Hansa argues that those messages might be fraudulent in an effort to defend Pratiksha. If they believe that those communications are phoney, Malhar asks, what about these pictures? He displays some fictitious images of Malhar and Pratiksha.
Pratiksha claims that since even Lord Rama took Sita's exam, she should as well. She says she will remove this kalank within the next 24 hours and preserve a dharam patni's respect. Malhar is led outside the home by Hansa.
Kavya tells Pratiksha that she is free to present any evidence she desires. She won't be stopped, but until then, Pratiksha will require her assistance to remove all of her belongings from Ravi's room. Ravi appears broken but makes no comment. Manvi asks Kavya to throw away all of Pratiksha's possessions, and they go inside Ravi's room. Pratiksha claims she will maintain all of her possessions independently.
Pratiksha declares that she will unquestionably stand up for herself and all other women who are afraid to do the same. Dadi walks in and inquires as to Pratiskha's sobs. According to Pratiksha, she broke Ravi's heart. Since Ravi is currently opposed to her, Dadi requests that Pratiksha divorce him.
According to Dadi, trust is the foundation of any relationship, but once trust is lost, nothing else matters. Dadi claims that she does not support Ravi because he does not support his wife.
Pratiksha guarantees Dadi that she would advocate for herself and demonstrate her abilities. Everyone will come to trust her. Pratiksha is one in a million, according to Dadi, who attempts to bring her family together.
In the next episode, Pratiksha would be seen unveiling Malhar and Kavya's deeds and proving herself innocent. To know what Ravi does next, keep watching Dharam Patni.