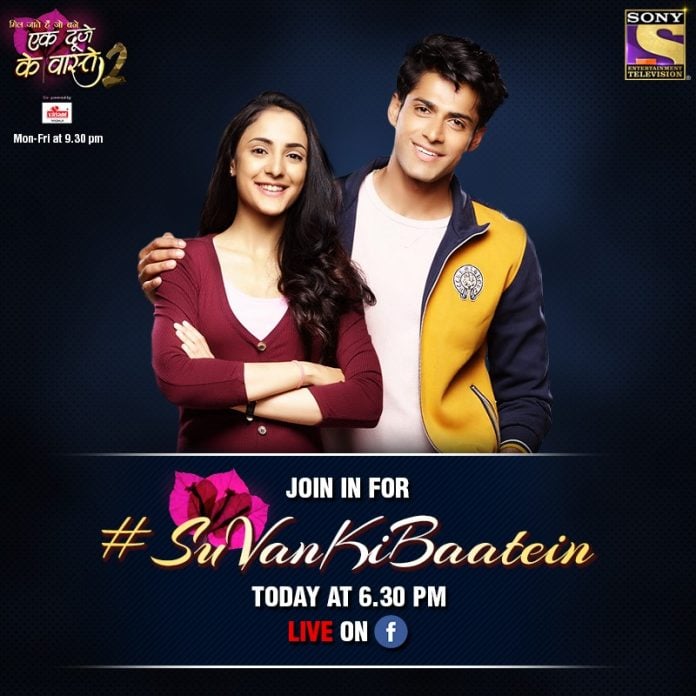 Ek Duje Ke Vaste Upcoming Story, Spoilers, Latest Gossip, Future Story, Latest News and Upcoming Twist, on Justhowbiz.net
The episode starts with Suman asking Shravan to practice the dance before making video. He nods. Suman places a hand on Shravan's shoulder while he puts his one on her waist. They hold each other's other hand. They start dancing together. "Tera hua" plays. Shravan looks away. Suman asks why he stopped now that not even a routine has been completed.
Shravan says that he cannot do it. Suman asks what happened suddenly. Shravan thinks he wants to get closer to her every time but he won't be able to stop himself if he does that and will tell all the feelings he has hidden and he cannot afford to lose her friendship since he fears getting separated from her. Suman asks if now he won't even tell the reason to her. She asks again why he cannot dance since he just agreed.
Shravan says that he agreed for her only but now he doesn't feel like doing it. He suggests to do something else but Suman says that whole class decided to do this so how they can change. She asks why he isn't feeling like doing it. Shravan says that they will have to come closer if they do couple dance and she will get awkward after which he won't be able to handle her. Suman crosses her arms looking away. Shravan suggests to make a couple video message instead of couple dance but Suman doesn't agree and prefers doing nothing. Shravan looks down.

Suman says that she will ask to Aneesh since maybe Devika will make video with Vishal. Shravan stops her immediately and forbids her to make video with that cheapo. He says that he is her best friend so he will make the dance video with her. Suman smiles and says that they won't get awkward by dancing since they are best friends. Shravan asks her to remember it. Suman says that they should directly record the video since they know the routine.

Suman starts the video and they start dancing again together. "Tera hua" plays. Suddenly, when Shravan pulls Suman closer, she feels awkward. Shravan looks away. Also Suman looks away and then leaves in hurry after thanking him. Shravan is upset.

When Suman comes downstairs, Kavita stops her saying that she urgently needs to talk with her. Suman sits with her. Kavita reveals her that Shravan is in love. She talked with Suman because she is Shravan's friend. Suman gets shocked hearing that and rushes away.
Kanchan tells Suman that Shravan is really changing her as nobody thought that Suman will also dance. She goes to get something to eat. Suman recalls feeling awkward during the dance and Kavita's words. She wonders why she is feeling so weird.

On the other hand, Shravan blames himself for what happened and is tensed thinking about what Suman might be thinking about him. He thinks to call her but stops thinking that she might not be feeling anything but start doing that after his call. He says that Bunty was right when he suggested him to maintain distance from her. He calls Bunty to get some suggestions, but he doesn't pick the call up. He looks at the notebook on his desk and remembers Bunty suggesting writing his feelings on paper. Shravan decides to follow that idea and confessing his feelings on paper if not in front of Suman.

Shravan sits at the desk and starts writing to Suman confessing his feelings: he starts from their first encounter when Suman had chased her and then, he doesn't know how, friendship and then love happened. He writes that he knows she got a bad image of him in the first meeting since she didn't see his dashing face but his bike number and ticket which made him end up in the army school where they behaved like enemies.
Shravan writes about how they became buddies by fate and their stupid enmity ended. He doesn't know how, when and why he started liking her: there wasn't a single reason, but he liked her completely. Title track plays. Shravan is happy after putting all his feelings on paper. He sighs relieved and looks at Suman's room through the window. Screen splits on two showing Shravan and Suman lying on bed tensed.
Episode ends

Precap: Bunty sees what Shravan has written and asks what he did. Shravan says that he felt relieved after writing all this. Bunty burns the papers. Shravan tries to stop him saying that these are his feelings. Suman witnesses all this from balcony. One piece of paper falls in Shravan's terrace. She grabs it and thinks that she has to find out what the truth is and what the misunderstanding is from Shravan himself.