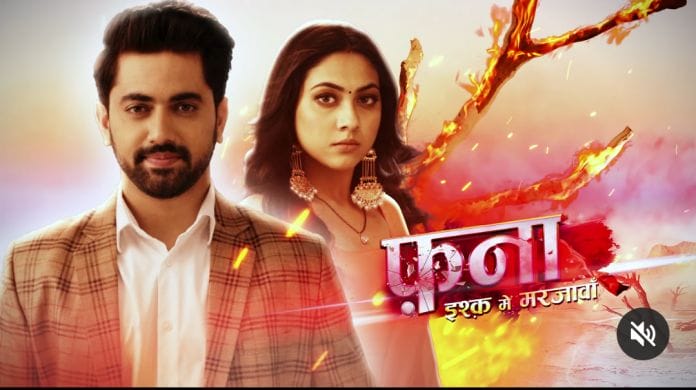 Fanaa Ishq Mein Marjawan Upcoming Story, Spoilers, Latest Gossip, Future Story, Latest News and Upcoming Twist, on Justhowbiz.net
The episode starts with Agastya's lookalike coming to Pakhi. He asks if he's angry with him. He says that he's scared when she gets angry. He spent six years alone when she got angry last time. Pakhi says that she won't leave him again as her life is with him. She says that maybe she overreacted. She says that she can't stop thinking about Dadi demise. Agastya's lookalike says that they should accept Dadi's death and they should do it for Tara's sake. Pakhi thinks of not sharing her doubts regarding Dadi's demise for now.
Pakhi is in the call with doctor. She asks doctor about Dadi's illness. Tara asks Pakhi to listen to her poem recitation. Pakhi shouts at Tara when she keeps insisting. Tara gets angry. Pakhi apologizes to her and cheers her up. A mystery man comes in a bike. Hr crushes a paper and throws it to Pakhi and leaves. Pakhi reads the message in the paper. In the letter the man asks Pakhi to meet him in the given place to know the truth about Dadi's demise.
Pakhi pretends to have headache. Agastya decides to cancel the movie plan. Pakhi asks them to go without her. Tara refuses. Pakhi convinces her. Agastya gets irritated thinking that he has to go to movie with these boring people. They all leave. Other hand Meera's man trying to fix the TV. Agastya says that Pakhi will definitely find the truth and then he won't spare all of them.
Pakhi is waiting to meet the mystery man. She wonders why he didn't come yet. The man in helmet is watching Pakhi. Meera points gun at him. A FB shows of Meera seeing the helmet man leaving message to Pakhi. Meera asks the man to remove his helmet. The man obliges. Meera gets shocked to see Yug. She asks Yug if he will help Agastya against her. Yug says that because he knows the truth. Meera says Yug to not interfere in her plan and threatens to kill him.
Yug says that he isn't surprised. He says that he has video footage of Meera keeping Agastya hostage and torturing him. He threatens to make it viral if she harms him. He shows her that video. He says that he needs money so wanted to help her to get sone money from her. He agrees to work with her if she gives him more money. Pakhi checks the money and realises that family will return home after watching movie and wonders why that man didn't come to meet her. She wonders if anyone stopped him from meeting her and what he knows about Dadi's demise.
Agastya's lookalike warns Meera that Yug can spoil their plan. Meera asks him to not worry about it and complete her work. Agastya asks Yug how he can help Meera despite knowing she's doing wrong. He reminds Yug that he gave him a second chance in life. He forgave his misdeeds and sent him to London, but he is deceiving him. Yug says that only money matters for him.
Pakhi finds a debit card. Tara says that Saradha's (Meera). Mona says that she's not coming today as her mom is still unwell. She adds that shw left in the middle of the movie saying her mom isn't well. Pakhi decides to go to her house and gives her card. She says that her address is in her diary and asks Tara to bring it. There Agastya requests Yug to help him. Meera mocks Agastya. She says that Pakhi will nener learn the truth.
Pakhi visits Saradha's house. A lady opens the door. Pakhi asks if she's Saradha's mother, how her health is now. The lady asks who Saradha is. Pakhi says that Saradha is her daughter's tutor and she gave this address. The lady says that the address is right, but there's no any Saradha here. Pakhi gets shocked. She calls Saradha. She hears the phone ringing and turns around her head and finds Saradha there. Pakhi asks her about giving wrong address. She says that Pakhi went to the wrong house and shows another house as hers. A FB shows of Meera seeing on the tv screen Pakhi getting her debit card and deciding to go to her house.
Agastya says to Yug that Meera will betray him again. Yug says that Agastya made him do all crimes. Agastya regrets his acts. He says that he doesn't want his brother the same way he took. He says that he won't be happy in this way. Yug beats Agastya and says that Meera's plan has to get successful There Pakhi hands Meera her debit card. She asks to meet her mom. Meera's man holds the owner of the house. Meera says that Pakhi can't meet her now and sends her out. Pakhi comes back home and finds a crushed letter. She wonders if it's not the mystery man's message and hopes to find the truth about Dadi's death now.
The episode ends.
Click to read
Fanaa Ishq Mein Marjawan 11th August 2022 Written Update: