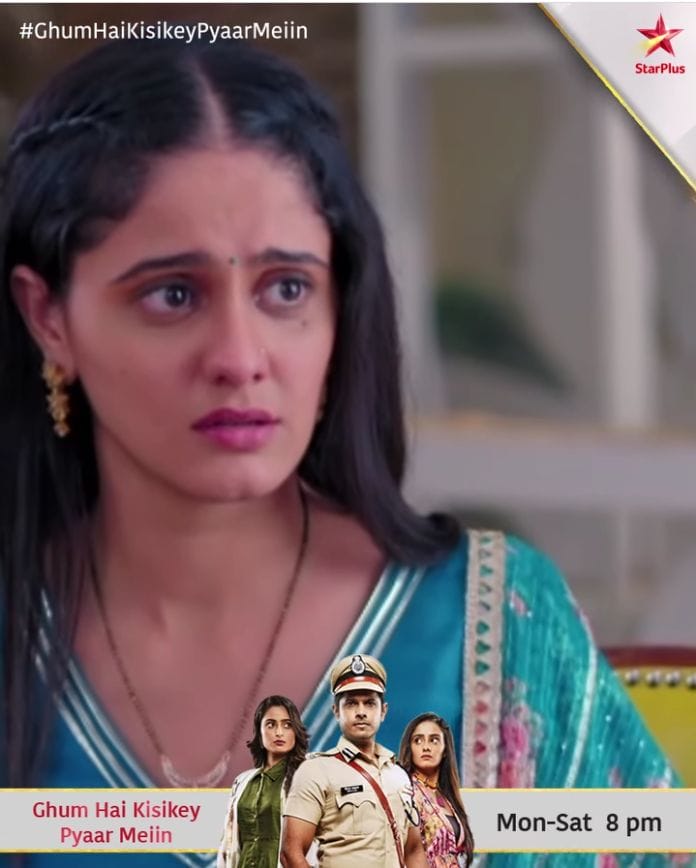 Ghum Hai Kisikey Pyaar Mein Upcoming Story, Spoilers, Latest Gossip, Future Story, Latest News and Upcoming Twist, on Justhowbiz.net
Episode starts with Chavans getting shocked seeing Sai in Bhavani's saree, while the latter shows her confidence in Sai and praises her. She notify about visiting the temple in order to take the blessing of God to start Virat and Sai's new beginning. Whereas, Karishma questions if Bhavani is giving her responsibilities to Sai? Everyone gets shocked, while Sonali denies about it and says there isn't any chance for Bhavani to give her duties to Sai. She reminds that she and Ashwini are there before Sai, to which Bhavani takes a stand for Sai and questions why she can't give her responsibilities to her?
Here, Sonali gets stunned by Bhavani's decision as she reveals about giving all her duties to Sai. Bhavani shows her confidence on Sai stating that only she has the potential to handle Chavan Niwas. Whereas, Sonali argues with her and Omkar also shows his his support towards his wife.
Omkar reminds Bhavani that how she use to taunt Sai and questions how suddenly she started trusting her? Whereas, Sai also tells that she don't think she deserves the title of Bhavani and ask her to give responsibilities to someone else. Whereas, Bhavani makes Sai understand that she only can handle the house properly and says that she is better then Sonali or Ashwini.
Elsewhere, Pakhi gets jealous of Sai and was about to leave from there after hearing Bhavani's decision, but Samrat holds her hand to stop her. She looks at him, while he signals her to stay. Meanwhile, Bhavani ties a thread in Sai's hand and says that it will remind her about all the responsibilities towards the house.
Sai gets nervous while Virat assures her. Bhavani plans to visit the temple in order to take blessings from God for Sai's new beginning. Whereas, Ashwini remembers the time when they came there when Bhavani got her responsibilities.
Ahead, Chavans takes blessings from the God and then roams around the temple. Whereas, Bhavani appreciates Virat's decision that he had chosen for Sai. Meanwhile, Sai looks at Virat being worried. She then questions Bhavani about her identity, to which the latter says that from now on her identity will be as the daughter-in-law of Chavans house and reminds her about her duty.
Ashwini insists to take blessings from the priest for Sai and Virat, while Ashwini agrees in order to bring a child in their house. Whereas, Sonali and Mansi insists to give blessings to Karishma-Mohit and Pakhi-Samrat also. Bhavani agrees and ask them to sit behind Sai and Virat in the Puja.
Further, the priest starts the Puja and throws pebbles on Sai but it falls on Pakhi making everyone shocked. Whereas, the priest calms them asking to let destiny do its work. He assures Bhavani that soon a child will come to Chavans Niwas. Meanwhile, Sai requests Virat to tell the truth to Bhavani but he denies explaining about the situation to Sai.
Precap:- Virat explains his situation to Sai and questions her if any extremely ill patient will come, then will she directly notify him that he is going to die? Whereas, Pakhi confronts Bhavani and instigates her against Sai. She says that she is sure Sai has done something wrong and is just trying to act as a good daughter-in-law in front of them. She states that soon Sai's mask will get removed.
Click to read
Ghum Hai Kisikey Pyaar Mein 12th May 2022 Written Update: Bhavani takes Sai and Virat to the temple