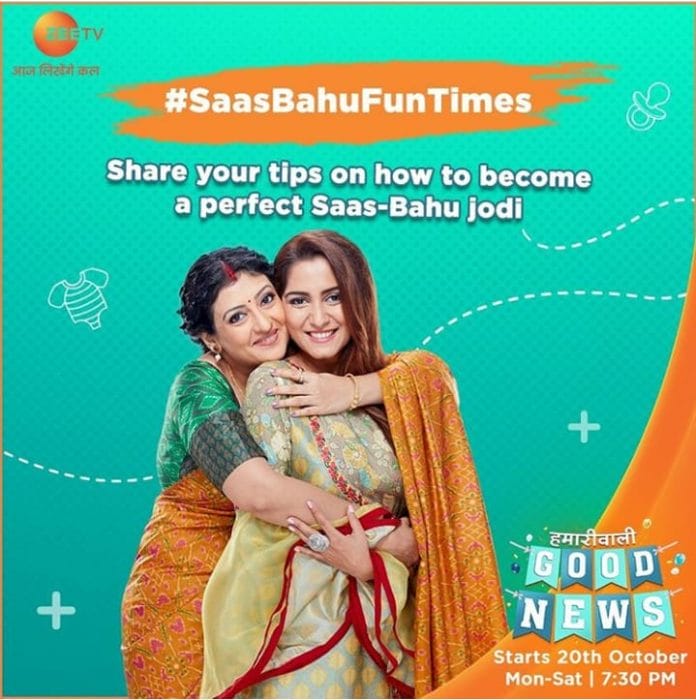 Good News Upcoming Story, Spoilers, Latest Gossip, Future Story, Latest News and Upcoming Twist, on Justhowbiz.net
Episode starts with Adi asking Navya to turn off the alarm. Navya turns it off. Then Navya says I need to tell you something but Adi is in sleep. Navya takes her ipad and types her idea to make breakfast and then tell Adi about her decision. Navya goes to get her clothes to go to bath, a balance of saving account falls. Navya says this all money will be for our baby now. Navya then goes to bath. Adi thinks he can't tell about him getting fired to anyone.
Here, Mukund is doing exercise. Renuka comes to give him Prasad. Mukund sees the sweet and says such costly sweet for Prasad. Renuka says you should not see the cost of Prasad and today is. Mukund says whatever it is. Renuka says today is good news. Mukund says so you talked to Navya wow. Mukund takes the prasad. Renuka says Navya came back at 2 am, how could I have talked.
Mukund gets angry and keeps back the prasad and says if my jiji doesn't come for bhai dooj then I will not leave you. Renuka I upset and turns to go. Mukund says wow. Renuka thinks he noticed the rose. Mukund says you have time to wear this 5 Rs rose but not 5 minutes to talk to Navya. Renuka is irritated and removes the rose saying with rose I have to handle the thornes too.
She goes out to talk to Navya but hears Navya saying Adi please check the motor, water is not coming and I have put soap. Renuka thinks this Navya also, she should have filled the bucket before putting soap. Renuka sees that the motor is fused. Mukund also screams for water. Renuka calls Adi and says motor has fused. Adi calls someone to repair it. Here Renuka tries to talk to Adi about kid. Adi says this time is not right lets focus on motor.
After the motor is done, Renuka holds Adi who is about to go to check the tank. Renuka says this is important too, it has been 3 years and you guys have to plan a baby now. Mukund screams for water. Adi says see mom, let me see water as it will take sometime for the tank to get filled. Adi goes.
Here, Preeti and Alok come. Renuka is happy to see her damad. They have brought gifts for Renuka and Mukund as it's their anniversary. Alok says today I will have all the meals here. Mukund comes, Preeti says I know Mukund doesn't remember. Mukund says what. Preeti says today is your mom's anniversary. Mukund says we don't celebrate so much you guys enjoy. Mukund sees the bouquet and says this is money waste it is of no use.
Alok says your damad gave it should be precious for you. Renuka is about to go to make breakfast. Navya comes and gives gifts. Renuka is happy to see knitting guide and wools. Navya gives new specs to Mukund. Mukund says what is the use of this. Alok says it's not your money. Listening to this everyone feels odd. Preeti says you also Alok ji. Aloka says please wear. Mukund wears it.
In kitchen, Navya says let me make breakfast. Renuka says no you will make healthy kind of food and no one will like it. Navya says my food is so bad. Renuka says we got to eat forcefully and today damad ji came so I will make his favourite with lots of ghee. Navya says okay. Navya sees Adi ans goes outside. Renuka thinks she is still hear and says how jiji has put condition for Navya to get pregnant. Renuka turns and sees Navya is not here.
Navya goes to Adi and says you know it has been 3 years of our marriage and how everyone is asking us to plan for kid. Adi says this is not the time. Preeti calls Adi to go to store with Alok and Mukund. Renuka was hearing the conversation and thinks Navya has heard her talk and gets happy. At the shop Alok sees a chips and open it but then keeps it. Mukund says take and eat it's free for you. Alok says it's okay. Mukund says it's yours only. Flashback is shown where Mukund takes 7 lakhs loan from Alok. Mukund says I don't have the money right now but will give you 7 lakh soon even if I have to sell the store.
Alok says you are talking like small vendors why will you sell this store for 7 lakhs when you will have to give me 1 crore. Mukund says how 1 crore. Alok says I need loan of 1 crore, I asked Adi but he denied so you tell him to. Mukund says I have never asked Adi for any help how can I now. Alok says I know damad is more important to you so you have to do. Alok says if not then give me 7 lakhs now. Adi is listening to all this. Mukund is tensed. Preeti packs the food and kachori and is about to leave. Adi comes and tells Alok to wait for few minutes I need to give you something.
Adi goes to his room with Navya. He takes out the check for their joint savings account. Navya asks what he is doing as it took a long time to gather this money. Adi says wait. Navya says why are you giving Alok 7 lakh rupees when this was for our baby. Adi asks Navya to sign it. Navya says no. Adi shouts at her. Everyone listens to that and are surprised. Alok then leaves with the cheque. Here, Mukund and Renuka are in store. Renuka asks why did you take loan from damad, you should have asked me.
Mukund says what would have you done, you want people to say Mukund runs the store on his wife's money? Renuka says I would have arranged money by selling my gold. Mukund says the time is not so worse. Mukund says you do your work of convincing Navya. Renuka says I have, even Navya has talked to Adi. Mukund says dont lie, tell me the date and I want it on paper then I will believe you, if jiji doesn't come then I will do something I have never done. Renuka is shocked.
Here, Adi says I had to help Mukund. Navya says you know na even I do things for family so I would have understood but why from joint account which was for our baby. Adi says it's okay we are not planning the baby tomorrow only. Navya gets emotional and says you wont understand. Adi says then tell me. Navya says ypu won't understand what is going on inside me. Adi says even you won't. Navya goes from the room and Adi is frustrated.
Episode ends.