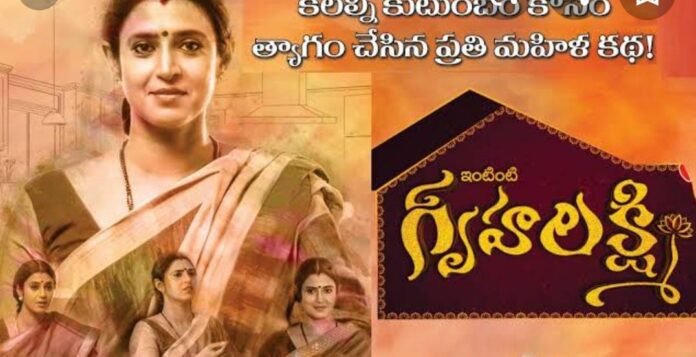 Gruha Laxmi Upcoming Story, Spoilers, Latest Gossip, Future Story, Latest News and Upcoming Twist, on Justhowbiz.net
The episode starts with all enjoying diwali celebrations, lucky asks Divya why we celebrate this festival akka, Divya says I too don't know Lucky, Tulasi says we celebrate this festival as symbol of win good over bad and tells story behind Diwali, Lucky praises Tulasi for explaining importance of festival. Madhavi advice Divya you should learn one more thing i.e we should win over our bad qualities anger, ego, selfish ness etc than only we become complete human being, Divya says ok aunty I will try to control anger from now.
Nandu's father says but we celebrate are celebrating this festival with bad people who tries to seperate people from our family. Abhi asks about whom you are saying Grand father no one is bad here, Nandu father says who should understood it they understand you don't worry. Anasuya taunts him I know about whom you are talking, I know you don't like Lasya but she is not like you are thinking, she is very good who helped Nandu in office in many ways so that Nandu can set financially and result is infront of you only see how happily we are leaving together with all facilities still you fery she is bad Owen to our family.
Nandu's father says you will never understand what is actual love and care by the time you people understand it you will loose it completely, one day will come and you will understand importance of Tulasi that dad you will regret this for sure that day is not so far.
Tulasi stand alone feeling happy in herself, Madhavi and Ankita says they are very happy by seeing You happy, after long days we are seeing you happy be happy like this only Tulasi. Tulasi says yes I am happy by seeing you all happy and from next year I will be not here to celebrate this festival so enjoying every moment of this Diwali.
Madhavi request Tulasi not to say that she will leave this house again she can't tolerate it, on the other hand Lasya feeling low and stand alone Anasuya says you don't worry Lasya what ever they said during celebrations I know how you are be happy. See today we are celebrating this Diwali grandly only because of you my dear, you just enjoy this festival instead of taking there word's seriously. Lasya says ok aunty, Lasya moves to her by saying she is feeling headache to Nandu.
Prem comes near Shruthi who is thinking something deeply near window and feeling sad, Prem asks what happened Shruthi why you are so sad? Shruthi says how she celebrates Diwali festival with her dad every year but this year she is far away from him even she can't able to wish him on his festival.
Prem says ohh that's it if you are not with your dad why can't we celebrate Diwali let's celebrate it Shruthi you just come with me and takes her outside the house and celebrate diwali by busting crackers she feels very happy and prem feels happy by seeing Shruthi happy after so many days, In this happy moments Prem asks Shruthi to continue her singing career, Shruthi says she can't sing ever again please don't force me Prem about singing again ever my answer is not going to change and starts to move from there sadly. Prem feels bad for making Shruthi upset.
Lasya remiscience what ever happened in during celebrations and thinks Nandu is showing so much concern on Tulasi now a days! Bhagya comes near Laaya and asks what she thinking Lasya says change in behaviour of Nandu towards Tulasi, Bhagya says you are correct I also observed it now a days Nandu is very soft and Caring towards Tulasi, if he behave like this only means he might take divorce decision back which is not good for Lasya becareful.
Precap: Shekhar comes to Anand Nilayam, Lasya warns him not to come here again it will create problems to her if anyone see you here! Shekhar says I too want that one only my dear. Lasya begs Shekhar to leave from there before anyone see but Tulasi see them together already.