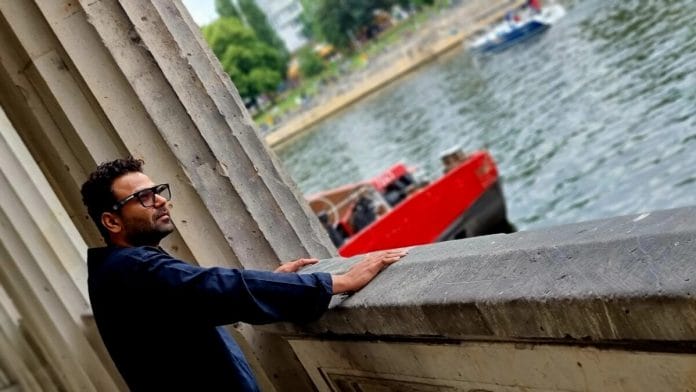 Vyas Hemang is a talented, hardworking, and experienced actor and director. He is well presenting himself on the screen and receiving huge applause for playing the significant roles.
Vyas, in an exclusive chat, talks about his overall acting journey, projects, and more. Check out 
1. From Bawaal to Scam, how has the journey been considering both are extremely different characters?
My journey from playing the character in "Bawaal" to "Scam" has been incredibly rewarding. Both characters are indeed vastly different, which challenged me as an actor. "Bawaal" allowed me to explore a lighter and comically charged role, while "Scam" presented a unique opportunity to portray a complex character with shades of grey. It's been a fulfilling experience to showcase my versatility and adaptability as an actor. 
2. How did your journey in the industry begin?
With a rich and diverse theater background spanning over two decades, my journey in the performing arts has been marked by significant milestones. I embarked on this path by pursuing a Master's in Theatre Arts at the University of Mumbai, a formative period in my artistic development, which I undertook from 2008 to 2010.
Building on this foundation, I further honed my skills at the prestigious National School of Drama, New Delhi, graduating in 2013. Armed with this rigorous training, I made my way to Mumbai, the heart of the Indian entertainment industry, where I have since dedicated myself to a thriving career in the world of theater and cinema.
3. What next from Vyas ?
I'm excited about the diverse projects that lie ahead. I'm actively exploring scripts that offer unique and challenging roles. While I can't reveal specific details at this moment, I can assure you that I'm committed to continuing my journey in the industry and taking on characters that will engage and captivate the audience.
4. One actor you got along with on sets of Scam?
It was truly a pleasure working with the entire cast of "Scam," and we formed a close-knit bond during the filming. If I had to pick one actor I got along exceptionally well with, I'd say it was Gagan Dev Riar who played Abdul Karim Telgi. We shared a great rapport on and off the set, which made the filming process even more enjoyable. His dedication and talent as an actor were truly inspiring.
5. How was your equation with Varun considering you made an impact with that role in Bawaal.
My equation with Varun has been fantastic. Working together on "Bawaal" was a memorable experience, and I'm grateful for the impact the film had on my career. Varun is not only a talented actor but also a wonderful co-star and a great human being. Our collaboration in "Bawaal" allowed us to create some memorable moments on screen, and I believe it's the chemistry between us that resonated with the audience.
6. One director you are looking and hoping to work with.
 There are many talented directors I admire in the industry, it's very difficult to choose one name. I am truly hoping to collaborate with those maestros in the future as I believe it would be a remarkable learning experience and a chance to create something special in the world of cinema.