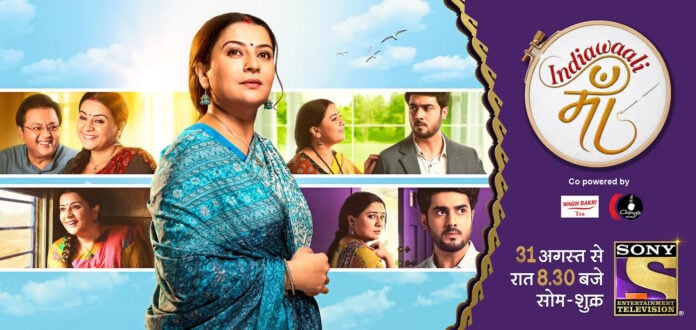 India Waali Maa Upcoming Story, Spoilers, Latest Gossip, Future Story, Latest News and Upcoming Twist, on Justhowbiz.net
Kaku draws designs staying awake at night, Fawad shows the presentation to Chinu, she says clients won't like it. Kaku hears clock ticking and goes, Rohan smiles seeing designs, he takes pics of them. She takes the papers and leaves without paying heed to him.
Keerti asks Fawad if they will work overnight, he says yes Chinnamma madam fired Kaku, so presentation responsibility fell upon her, he has to help her. Kaku comes to office, receptionist asks her ID card. Kaku says she kept it somewhere, they can identify her right, she came to office morning, but receptionist says she can't allow her inside without ID card, they are rules. Kaku searches for ID card in her bag and finds it, she goes inside.
Keerti stops her, Kaku says she has to show presentation to Chinu by 8 pm. Keerti asks to show it to her, Kaku denies, she will show to Chinu first. Keerti says she can help her in correcting any mistakes, Kaku agrees and shows. Keerti praises it to be perfect, she says they will take its copies, Chinu will like it. Keerti takes Kaku to a room and asks her to place papers in a machine one by one, Kaku does it, she sees papers folding inside and wonders if copies will come straight.
Fawad comes and asks if presentation is ready, Kaku says she put them in this box, he asks why did she do it, its used for waste papers, its paper shredder. He opens the box and shows her torn pieces of paper. Kaku cries and says everything is ended, she made it with so much hardwork.
 Chinu comes and Fawad shows her what happened. Rohan comes as savior, he took the pics as designs were very beautiful, he will make presentation and give it to them. Chinu looks at him, he makes ppt, Kaku narrates wedding rituals, Rohan and Chinu get emotional and visualize them as bride, groom. Chinu says ppt is good, but he needs to change bride, groom faces, he says he will make changes and mail to her.
Rohan and Kaku come home, he says he will order food from outside, its very late and she must be tired. She hugs him and thanks him, she felt very happy seeing him work with computer with so much concentration. She motivates him to work hard, he will be successful.
Rohan says he is trying hard, but no one trusts him, he left MBA in middle, no qualification, he wants to move on, but there is no way. She says he will find a way, she is saying it confidently because a person who openly tells about his weakness is really great.