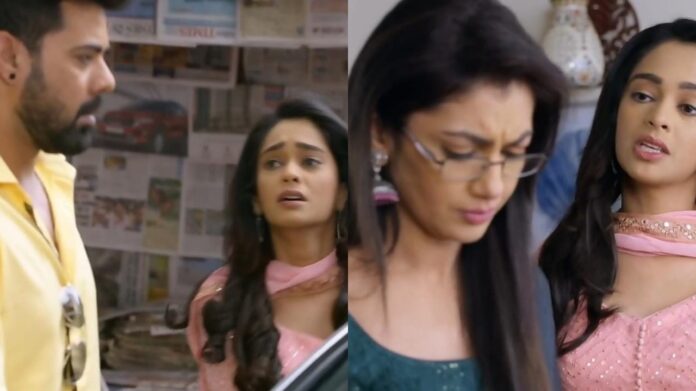 Kumkum Bhagya Upcoming Story, Spoilers, Latest Gossip, Future Story, Latest News and Upcoming Twist, on Justhowbiz.net
The episode starts with Aliya invites guest to attend Haldi ceremony on day after tomorrow. Rhea feels happy and about to fell down but Prachi helps her. Rhea ignores her than Pragya takes Prachi with her. Aliya gives sweet box to Pragya and congratulate Pragya for supporting her husband marriage with Meera and leaves after mocking her.
Pragya says let's leave. Saritha goes in saying she forgot something. Prachi goes behind Saritha. Abhi sees Pragya alone and asks what happened. Pragya says glad you move on in life. Abhi says I know, you felt something seeing my engagement. Pragya sats she happy and tastes the sweet, Abhi ears same sweet saying it's his favourite sweet.
Saritha notices Prachi behind her and asks if she following her. Prachi says I came to witness how you teach lesson to my Aunt for insulting my Mom. Saritha feels happy and goes to Aliya and asks can't you see your Brother love for Pragya? Warns Aliya that she gonna fail her plan to seperate Abhi and Pragya. Aliya leaves.
Pragya says hope you don't need any other proof, so good bye. Abhi goes. Saritha asks Dadi help. Dadi says she needs her help too. They decides to support eachother. Pragya leaves with Prachi and Saritha.
Pallavi asks Doctor to hide the matter from Vikram and Ranbir. Doctor says they are tensed so I feel it's good if you tell them. Pallavi says she will inform after marriage. Doctor says he is feeling like cheating Vikram and you must tell Ranbir that you're completely fine without any heart problems which makes him happy. Pallavi says talk slowly, I'm hiding this to keep Ranbir away from Prachi. Ranbir listens everything. Doctor suggests Pallavi to inform her family very soon. Pallavi says she will reveal to everyone after Ranbir marriage with Rhea.
Rhea couldn't sleep while reminscing how Ranbir can risks his life for Prachi and shouts in pain saying Ranbir belongs to her. Aryan mistakens Ranbir trying to suicide and gives class to him. Ranbir stops him and tells to Aryan that my Mom is good but she is hiding this truth from us to make me get married to Rhea. Aryan asks how he knows. Ranbir tells him how he heard Doctor convo with his Mom.
Saritha thinks about recent happening. Prachi goes to her room to turnoff light and sees Saritha is awake. Saritha notices Prachi sadness and asks her what happened. Prachi says nothing. Saritha says your Mom and Dad loves eachother but they are separating because of their kids issues and your Mom couldn't stop the marriage.
Pragya cries in her room reminscing everything. Prachi notices her Mom pain through Glassdoor and gets tears and thinks Mom is not happy with this marriage but she won't tell to anyone that how much he loves Dad, hope this marriage gets cancelled.

Someone angrily knocks Abhi door. Abhi opens the door. Purab enter his room and searches for wedding cards and he tores them and questions Abhi how can she give Pragya position to Meera. Abhi asks Purab to know it from Pragya. Purab says you must do something wrong. Abhi says you don't know full matter.
Purab says I know everything about you and Pragya di, I won't let this marriage happen. Abhi says this marriage is happening because of Pragya. Purab says he won't let this marriage happen. Abhi asks what can he do. Purab says he gonna lit whole Mandap. Abhi hugs him. Purab breaks his hug. Abhi says you sister want freedom from me that's why I'm giving her and he throws Purab out from his room. Abhi says no need to knock, go and sleep. Abhi thinks Pragya is forcing me to do this marriage.