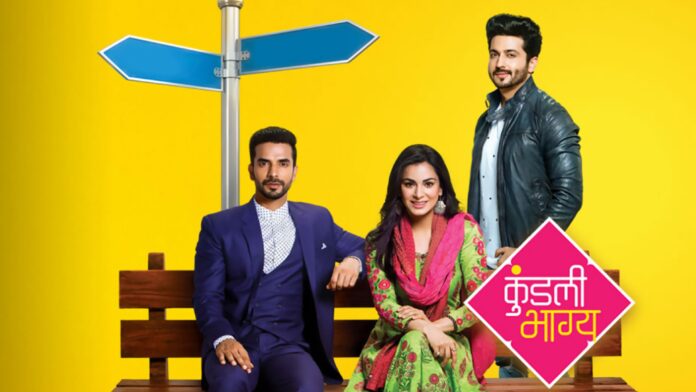 Kundali Bhagya 8th July 2020 Written Update on Justshowbiz.net
Episode begins with Rishab thinks if Rakhi sees his injured hand then she will become sad. He thinks Sarla is a mother too and she is also used to worry seeing Preeta's sadness, it's not easy for her to digest Karan and Mahira's marriage when Karan already married Preeta. Sristy asks Preeta to not think much about horoscope because it's not necessary that everything written is true. Preeta asks Sristy what else written in her horoscope. Sristy says if anything wrong happening then Preeta will go to make that right, even if she tried to do the right thing she will be proved as wrong person only. She says today is not good for Preeta so she should be careful. Preeta says already wrong things only happening. Sristy asks what will happen if Karan reads Preeta's today's horoscope and says he will be shocked for sure. She apologize to Preeta for bringing Karan's name. Preeta asks Sristy to go from there instead of disturbing her. Sristy says she have to go to market to buy vegetables because Sarla asked her to do. Preeta says she wants to buy something so she will accompany her. Preeta thinks she will get mad always thinking about Karan if she stays at home so it will be better for her to go with Sristy. Karan recalls how Preeta treated his shoulder when he was in pain. Sherlyn asks Rishab to bring the gifts soon which they have to give it to Mahira's family. Prithvi hires someone to kidnap Rishab.
Sherlyn asks Mahira that where she went without informing her. Mahira says she went to inform Preeta about her and Karan's marriage. Sherlyn says Preeta would get to know from news then what's the need to go to her. Mahira says she wanted to see Preeta's reaction. She says she did lot of things to reach this day and she was so happy seeing Preeta's face when she informed about the marriage. She says Preeta gets shocked when she confessed that she only pushed Mahesh. Sherlyn scolds her for confessing to Preeta. Mahira says now she is not afraid of anyone. She says today her marriage going to happen with Karan and she is so happy that she doesn't wants to talk about anything else. Sherlyn thinks what will happen if Preeta calls Karan and informs about Mahira's truth.
Sristy asks Preeta to not think about Mahira seeing her tensed face. Preeta says she is not thinking about Mahira but luthra's and asks how no one from luthra family didn't get to know about Mahira. She cries thinking about her helplessness and calls Karan. Ramona greets Sanjana and says this much gifts not needed seeing the gifts in her hand. Sanjana says Mahira is her daughter also and it's her responsibility to do something for Mahira. Kareena introduces Sanjana to Mahira's uncle and aunty. Sherlyn thinks she have to do something so Preeta and Karan can stay away from each other. Karan doesn't attends Preeta's call and Preeta gets irritated. Karan recalls his moments with Preeta. He says he thought Preeta is innocent but she was just playing with his emotions and he didn't get to know about that.
Episode ends.