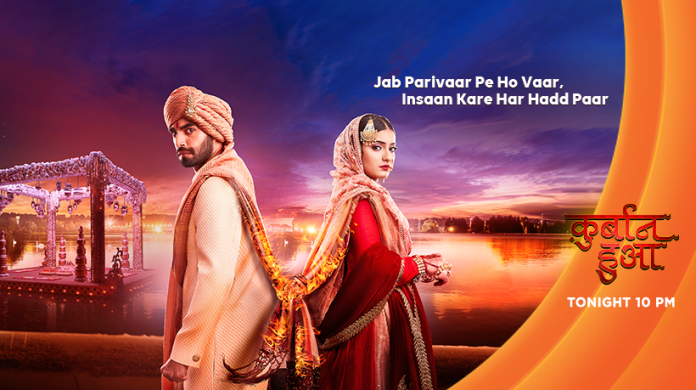 Qurbaan Hua 8th July 2020 Written Update: Remembering loved ones on Justshowbiz.net

Mami ji questions Chahat about her look saying it is looking like hijab. But on time Neel speaks up and diverts the topic saying that it is a trend for taking precaution against Corona virus and she is showing that. But Mami says that she hasn't covered her face and Neel asks Chahat to show her how to make mask. She shows that and mama ji but then she asks her to take it off as it's not needed. But Vyas ji asks her to keep it on saying that it can give some protection which is not bad. He says that it's their responsibility to take care of themselves and after that they start the prayer.

Later Chahat feels guilty about lying to Vyas ji and feels that she should be punished. Someone knocks at her door and she opens it and finds a plate with chillies. Then she gets a video call from Neel and he says that he has sent the chillies to punish her for her idiotic act. She says that she will eat the chillies but because of her fault and not because of him. Neel says that he will not spare her dad when he finds her but Chahat says that he will repent for this hatred when he finds out the truth.

Chahat says that Kajri ji knows her dad which shocks Neel. She thinks about the time when her dad was trying to save Saraswati and she talked about someone pushing her. She decides to tell Neel about it when he becomes calm and picks up the plate with chillies. Mama ji shouts and asks all to come on video call and shows the blueprint of the bunglow and talks about treasure but Vyas ji becomes angry and asks him to concentrate in inner self. But others say that he should try finding the treasure. Chahat advices him to not waste time but no one listens and she is worried about them falling in any trouble.

Kajri ji goes to Mrs Baig's room thinking that she should tell her about Chahat. She tries to tell her but she misunderstands her and asks her to go. She asks her to get her a room upstairs. Meanwhile mama ji and others try finding the key for treasure and Chahat wonders why are they believing in such fake story. Then they come on video call and Chahat says that they wasting time by doing all this. Mami shuts her up but then they conclude that there is no key here and decide to go out to search. Chahat wonders about their act and how to stop them from going out.
Mrs. Baig decides to find Kajri ji. Meanwhile someone locks all family people inside and it is Chahat and she does it for their good. She feels that she had to lock them in but thinks that it is for their good. Vyas ji watches Saraswati's photo and becomes sad while remembering her. Then he searches his bag for his medicine in his bag and realizes that he left it at home. Someone knocks his door and he finds his medicine. He understands that Neel kept the medicine and feels happy about the change, Neel remembers Saraswati and meanwhile Chahat thinks about her dad too.
Mrs Baig goes to a room thinking that it is Kajri ji's room and sees Neel talking on phone and