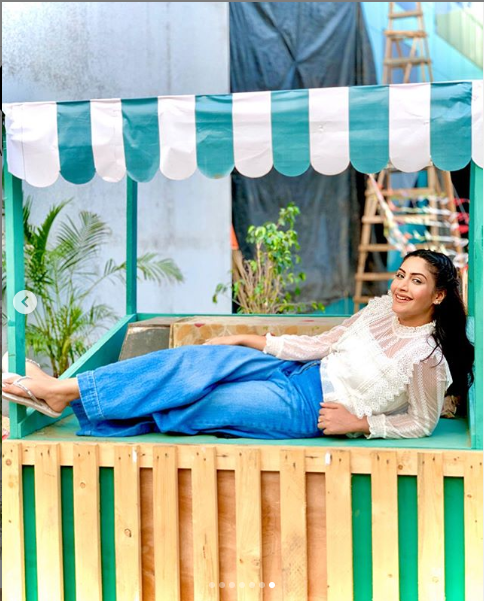 As we all know that the Corona Virus's havoc is increasing day by day and it is the only way to stop spreading. That we stayed in #QuarantineLife and did not come out from our houses. But the biggest problem is during Quarantine is how to spend this quarantine period that we can stay active and happy. So solving this problem of her fans TV Actress Surbhi Chandna shared some tips to spend this #QuarantineLife happily.
Help The Family Members In Household Work:
Surbhi told that during this time she is helping her family in their daily chores like washing dishes, cleaning the house, etc. Because it's a also good workout to being healthy and active. And enjoying her favorite dishes too. So that's one of best idea to spend your Quarantine actively. By helping your elders and minors in daily routine which probably you can't able to do usually.
Spend Quality Time With Mom:
Surbhi revealed that her mom is have fond with singing and loves to sing so Surbhi also joined her in singing and sung a lovely song with her mom. So, there is another thing which you should do in Quarantine because in daily we can't gave a sufficient time to our mom and family. But in lockdown we got a opportunity to spend some lovely moments with our mom and family. So give some time to your mom and family and make some lifelong awesome memories with them.
Try Your Hands In Something You Are Longing To Do:
Surbhi also shared a singing video of her in which she said that she loves to sing. During tough shoot work she is not able to something for relives her hobby. So, now she gave sometime to her hobby "The Singing". And also gave an amazing idea to her fans that do whatever you wants to do for long. Or relive your hobby like, Singing, Dancing, Painting etc.
Cooking Can Be Great Stress Buster :
Surbhi shared a video on her instagram in which she helped her mother in kitchen. After so long for making her favorite Idli and Sambhar. And also motivates her fans for cooking or helping your mom in kitchen. So you also cooks your favorite dishes for your family or whatever you cook best.
So friends we sure now you get so inspired from Surbhi. So tell us in comments how are you spending your time during #Quarantine. And from these which one you found most effective way to spend time in Quarantine. Thanks for read, stay connected with us to know your favorite celeb's updates. Let's Get Buzzing…!!!