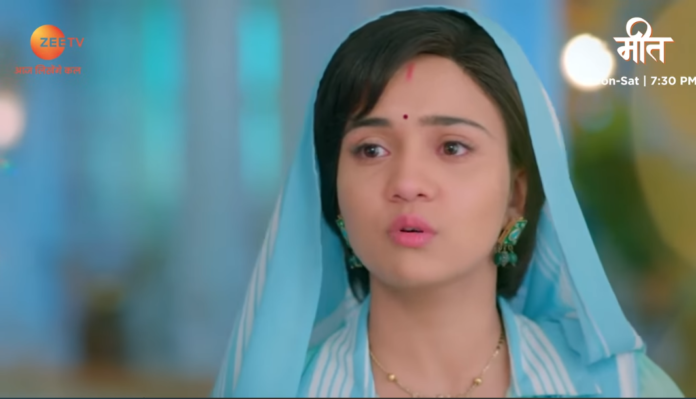 Meet Upcoming Story, Spoilers, Latest Gossip , Future Story, Latest News and Upcoming Twist on Justshowbiz.net
At the beginning of the episode, Meet Ahlawat is packing his luggage. Meet comes into the room and asks him why he is packing his luggage. He tells that they have to leave from here. Meet says to him that he should not steal things from the hotel. Meet Ahlawat does not understand her point and asks her what he has stolen. She says he is trying to hide his pain which equals to stealing.
She adds that she knows that he is sad because of Manu. Meet Ahlawat tries to explain to her that he wants to stay away from Manu but it is very difficult for him. Meet advises him not to run away from his problems but to participate in them. Meet Ahlawat understands her point and asks her if she will support him. She answers yes and assures him that she will always be with him.
Here, Babita tells Sunaina that they should not tell anything to Meet right now as they have gone on a trip and they have got time to spend together after a long time. She adds that she is confident that Tej will return. Sunaina trusts her words. Babita hugs her and decides that she will make her daughter-in-law so strong that even Raj will not be able to break her. Here Meet and Meet Ahlawat are having a good time together.
The next morning Sunaina is watering the plants. Raj comes to her and says that just like plants need care, she also needs a person in her life who takes care of her. She says that Tej's memories are enough for her. Raj tells that Tej is his son who has moved away from him but still he wants her to get married again and be happy. Sunaina denies this and adds that no one can replace Tej in her life.
Raj says that he will not eat food until she gets ready to start her life afresh. Sunaina is shocked to hear this. She tries to talk to him but Raj leaves without listening to her. Here Meet and Meet Ahlwat are sitting in the restaurant. Manu comes to them and asks them about their orders. Meet Ahlawat asks her to leave from there. Manu further breaks down seeing that Meet Ahlawat is happy with his sister.
Just then the waiter comes to Meet and tells her that there is a call for her. Meet leaves from there. Manu plans that she will add more chillies to the guest's food so that the guest will insult her and Meet Ahlawat will come to rescue her. Next, the guest starts scolding Manu. Meet Ahlawat gets upset seeing this but remembers Meet's words and does not move from his position. Manu is shocked to see that Meet Ahlawat is not coming to her. Later, Meet comes to him and asks him what happened. He tells her that today he faced the problem and it all became possible because of her. Meet is happy to hear this.