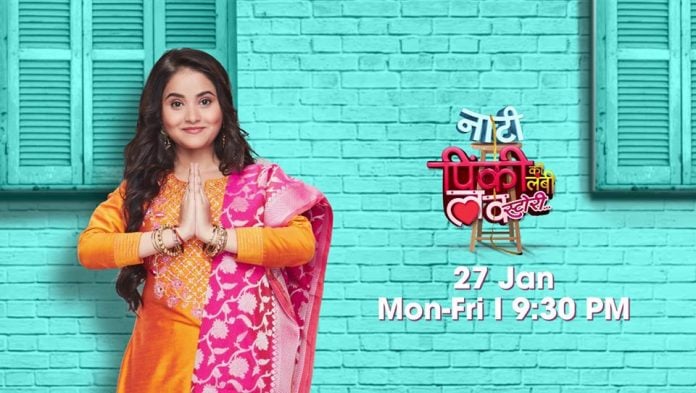 Naati Pinky Ki Lambi Love Story  Upcoming Story, Spoilers, Latest Gossip, Future Story, Latest News and Upcoming Twist, on Justhowbiz.net
The episode starts with Arjun feels sad. Parul holds his hand saying I know it will be tough because I experienced the same pain when you left me for Ananya. Arjun says but I never loved you, anyways sorry. Parul says I'm not saying it to make you guilty ,I'm saying to you to make you feel better and you will forget her with time. Arjun asks did you forgot me. Parul looks in. Arjun says it's not easy and I never feel these for anyone except Pinky.
Parul says I don't know why you want to get separated from Pinky but I will be with you in your painful journey. Arjun says I'm scared and don't want to hurt you like Pinky and thanks for accepting marriage proposal. Parul says two friends can marry and life is giving me another chance so I'm happy. Arjun says Nandu needs mom and I need peace of mind. Parul says you will get peace of mind because I don't think Pinky will stay here after our drama. Arjun says Pinky won't accept her defeat. Parul says I'm going to check her because I feel she already packed her luggages.
Parul opens the door and gets shocked seeing Pinky is getting them tea. Parul acts close with him. Pinky about to make tea but Parul stops her saying she knows his choice. When Parul about to make it in wrong way Pinky directs him and mocks her saying she don't know about Arjun choice.
Arjun asks Parul to make his tea saying he likes everything she makes for him. Arjun praises Parul tea. Sunny comes to their room and asks Arjun to come out. Parul offers to make tea to Sunny. He asks Pinky to make for him. Arjun signs Sunny to leave. Pinky asks Arjun to give sometime to everyone. Parul asks where is Monu. Pinky correct her saying it's Nandu and leaves.
Arjun comes behind her says you have to leave from my house very soon and he gives her card. Pinky gets shocked seeing his wedding card. Arjun asks her to leave after signing divorce papers. Pinky says don't know what changed in one night ,I will divorce you but train her some time so she can take care of you and Nandu, once you're married to Parul, I will break our marriage and leave you forever. Arjun says you can hurt yourself and run from truth but I won't change my decision to marry Parul. Pinky says Nandu is sleeping so explain her properly so she don't get hurt.
Arjun feels sad in his room. Pinky cries in her room while reminscing her moments with Arjun holding her mangalsutra.
Early morning Parul gets shocked seeing Pinky with Tea and asks what's she doing here. Pinky says it's training for you so get ready you have so much work. Pinky asks Parul to make Tiffin and tea for Arjun while saying the location of things. Parul makes sandwich. Pinky asks her to make Paratha for his lunch.
Parul thinks she don't know how to make anything except Sandwich but tries to make it. Arjun notices messy kitchen and asks what's she preparing. Parul says she is preparing food for him. Arjun says I can eat outside. Parul says I can't let you eat outside. Pinky asks him to let Parul learn everything. Arjun says he don't inform anything to Nandu do he asks Parul to not tell anything to Nandu. Parul agrees and sends Arjun to office.
Parul gives tea to Pinky saying you can't show me low Infront of Arjun because I'm smarter than you and I won't get scared seeing work. Pinky smiles. Parul asks why you're laughing. Pinky says you're thinking negatively, for making place in their heart you have to take care of them, I'm not torturing you, it's my care for them and I'm not vamping so chill and I'm happy that this house got better than me but if my love is true than no-one can separate us. Parul says font dream previously I lost him because of Ananya but this time I don't loose him.