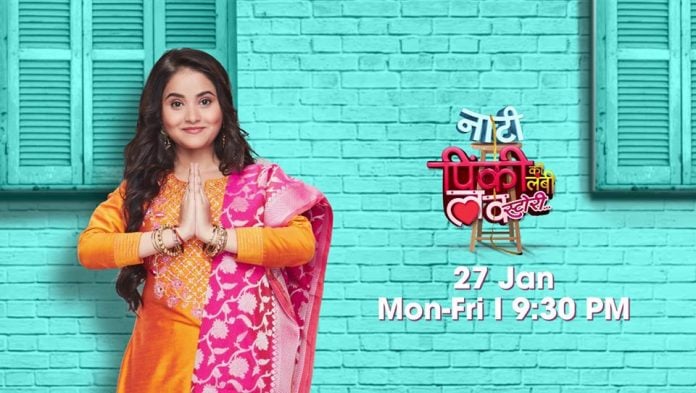 Naati Pinky Ki Lambi Love Story Upcoming Story, Spoilers, Latest Gossip, Future Story, Latest News and Upcoming Twist, on Justhowbiz.net

Episode starts with Antara messages apologies to Antara. Antara calls her through window. Pinky apologies to her. Antara says I talked with you like that to show to Arjun how much you love him. Pinky asks will support me always. Antara says always and she asks her to not forget about tomorrow Jitiya vrat mom used to do it for their kids. Pinky thanks and says she must complete her wife duties first.
Pinky teaches Mruntunjaya mantra to Parul. Nandu records everything placing camera in table. Parul gets tired after sometime. Pinky gives her coffee placed on table to energise her but Parul sleeps deeply and won't wake up so Pinky completes Mantra Jap to save Arjun life from hurdles.
Next day Parul wakes up and thinks when she slept. Parul notices Arjun about to come. Pinky says only one on left. Parul says she will and finished it. Arjun sees them and brings two bowls of hot water and places one for Pinky and gives another to Parul to place her hand in it. Arjun asks Pinky to apply cream in her hand. Pinky says you can apply it for your wife because I won't apply it myself.
Arjun leaves but than he comes back and applies cream to her hand. Parul feels insecure. Revati says why are you applying cream to her when Parul completed it Pinky is just doing show off. Nandu wakes up and shows how video recording how Pinky completed the Jap mantra. Parul says sorry Arjun, don't know why I slept badly after drinking that coffee. Arjun says it won't matter to me so leave it and sends Nandu to get ready for school.
Revati says Nandu is right everything did by Pinky because she makes Parul asleep by mixing sleeping pill in her Coffee and shows the cup. Parul says such a vamp Pinky is. Arjun looks on. Pinky says I didn't do anything. Revati asks Pinky to drink that Coffee bringing another cup.
Pinky drinks it and says she didn't do it but feels drowsy after drinking it and sees towards Revati. Revati reminsces how she placed Sleeping pill in Pinky cup throwing bottle near the table. Revati than shows that bottle to Arjun saying Pinky mixed the pill. Parul says you're worst Pinky. Revati says Pinky family is worst. Arjun stops them. Pinky about to fell down than Arjun takes her to room.
Arjun asks Pinky to open her eyes but she didn't. Parul gives him bedsheet. He drapes it on her. Parul says sorry for talking to Pinky in that way but she did wrong with me. Arjun leaves. Nandu hugs him and asks about Pinky health. Arjun says fine. Nandu says Choti mom can never lie and asks him to trust her. Parul asks Nandu if she wants to eat something. Nandu leaves saying no.
Antara comes to home and asks him about Pinky. He says Pinky will get conscious soon and please stay with her and don't feel bad that Pinky told against you for defending me but she needs you. Antara says Pinky needs you, why you're hurting yourself and Pinky, Did someone asked you to do it. Arjun tries to leave saying he is doing for Pinky goodness. Antara says you know what's good for Pinky still you're playing games. Arjun leaves.
Arjun asks his Mom why she is playing her game mixing sleeping pills and asks if she ever thought how Pinky will feel. Revati looks on.
Antara wakes up Pinky. Pinky wakes up saying I didn't do anything Arjun ji and she goes to tell him. Arjun says Pinky is already in pain because of my actions so don't increase her pain because Pinky is good hearted. Pinky overhears their convo.
Revati says she is doing this for him. Antara says what are you doing here, let's take rest. Arjun thinks hope Pinky didn't heard anything. Arjun looks at her. Antara dashes Pinky and she fell on Arjun arm. Nandu hugs them and asks Dad did you forgive Choti mom. Arjun stays silent and leaves out saying he have work. Parul and Revati feels bad
Antara smilingly says their faces colours changed seeing you and Arjun ,Did you like it. Pinky says she felt good in Arjun arms. Antara says don't know why Arjun is behaving in this way like someone forcing him to do ,anyways leave it she gives gold chain to Pinky.
Pinky says where is for Parul. Antara gives it to her saying I know it. Pinky says Parul must go through mom training and I'm happy to do this for Nandu. Antara says Nandu is lucky to have mom like you, wish Arjun can notice what you're doing for him.
Nalini gives soup to Ram. He denies it. Nalini says I talked with Arjun and he will return our Pinky so get well soon. Ram says she betrayed me choosing Arjun over us and she won't come back even if I died. Nalini thinks I will bring Pinky and fulfil my promise.