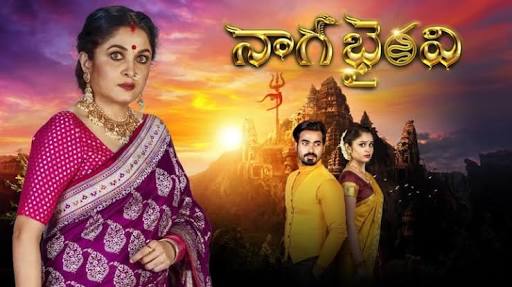 Naga Bhairavi Upcoming Story, Spoilers, Latest Gossip, Future Story, Latest News and Upcoming Twist, on Justhowbiz.net
The episode starts with Jalaja says Brother your sister planned cleverly to get your property. Shakuntala says stop it Jalaja, I'm not in a position to expect property like you. Jalaja says so you're blaming me. Shakuntala says you're staying in this house without going to Sasural for property. Jalaja says it's my mother's place, don't question me. Shakuntala says Mom, answer me, isn't this home belongs to your elder daughter? Bhairavi thinks so Arjun Mom is my Aunt. Annapurna says what to answer when our relation is over. Veerabhadram insults why Shakuntala and her husband entered their place. Sanvi says don't talk cheaply about my Dad. Veerabhadram says your Dad stands silent so don't raise your voice. Arjun says don't do extras.
Veerabhadram says seems like you don't know that you're reason behind all these problems Dorababu and your horoscope is extra and bad, seems like your Mom didn't tell you that you're bad fated person and Brother in law this Arjun is really bad fated like Astrologer said that's why we faced many problems because of his entry. Jalaja asks Shakuntala to leave with her son. Krishna says Arjun leave from here by yourself. Sanvi says seems like village is full of stupid people. Krishna shouts what's she saying. Sanvi says Arjun if you both loves eachother than noone can stop you guys so being her with you because you guys are majors. Veerabhadram says did you saw how they are talking to take Bhairavi with them. Krishna says think it as warning, leave from here before I lost my patience.
Veerabhadram says these people won't listen with words and he holds Arjun collar. Sanvi stops him and questions how dare he to touch her brother. Veerabhadram throws her which makes Shakuntala fell from chair. Arjun gets angry and holds Veerabhadram neck. Annapurna request Arjun to leave Veerabhadram for her. Arjun says my Mom is elder how dare he to hurt my mom. Annapurna says Shakuntala if you respect your Mom, leave from here with your son. Shakuntala sats Arjun let's go. Arjun questions Krishna why they are insulting his parents. Shakuntala feels dizzy, Arjun goes to her. Shakuntala requests Arjun than they leaves from that place. Arjun and Bhairavi looks sad at eachother. Sanvi and Veerabhadram signs eachother that their plan is success.
Arjun and his family reaches to home. Both families thinks about recent happenings. Arjun goes to his Mom and asks her to tell the reason behind their insult. Sanvi questions why she hides her mothers place details. Arjun asks why didn't you tell us that Krishnam Naidu is our father in law. Sanvi says you went to Nagavaram and lied to us that you were in Zombia and this insult happened because of you. Arjun says I went to that place that's why we found they are our relatives and he asks her mom to answer him.
Arjun dad says it's happened because of me and I did mistake. Shakuntala says you killed one person one not small mistake. Everyone gets shocked. Ambujam says what's she saying. Shakuntala says he is killer and he betrayed our family goddess NagDevata and he's the reason that my family and village avoiding me. Arjun asks whom their Dad killed? Bhairavi asks Granny, do you have another daughter along with Jalaja aunt? Did you lost Grandpa because of them? Answer me.