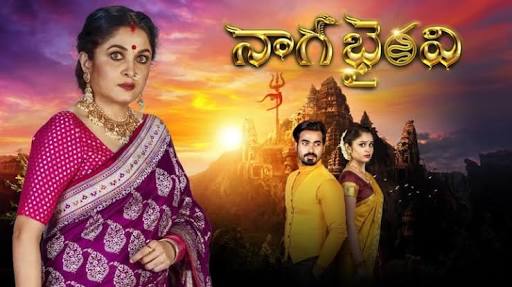 Naga Bhairavi Upcoming Story, Spoilers, Latest Gossip, Future Story, Latest News and Upcoming Twist, on Justhowbiz.net
Episode starts with Sarath says it's happened because of his mistake. Kaushalya says you did crime by killing one person not mistake. Ambujam asks why her brother kill anyone. Kaushalya says not only killing one person, he cheated our family goddess NagDevata. Arjun asks whom did their Dad killed? Bhairavi asks Annapurna to tell what happened. Annapurna says don't know how to tell you. Kaushalya also tells it to her son.
Annapurna says that time its Sasta Graha time and story moves to past where Kaushalya gives Rudraksh mala to her Dad. He asks her to arrange for Pooja. Sarath asks why their father in law is getting ready in the night time for Pooja. Veerabhadram takes him aside. Kaushalya gives him Pooja plate and sends him keeping Kumkum on his face. Sarath asks ehst kind of Pooja at night time.
Veerabhadram says today is Sasta Graha time and Nagadevatas powers will be less at this time so this Pooja will give them strength. Saratoga asks why can't they join Pooja. Veerabhadram says only head of family might do this Pooja and after his Pooja Nagadevatas of temple will perform Pooja with their Nagamanis Nd it's prohibited to witness that Pooja and who will get that Nagmani will get so much property and they can get anything they want. Sarath asks is it really true.
Veerabhadram says let's wait for until father in law reaches to home finishing his Pooja, I will take you to that temple and if you get that Nagmani than you can achieve anything you want in life, I saw that Nagmani once but I couldn't have it because of fear but if you support Mr we can snatch the Nagmani. Sarath asks won't those snakes kill them. Veerabhadram says snakes will be in dizzy state after removing their Nagamanis so we can steal them easily but you have to be courageous. Shakuntala asks what they are discussing. Sarath says nothing.
Krishna's father performs Abhishekam to lord Shiva and prays to save everyone from Sasta Graha Kutami and leaves after finishing the Pooja and decoration. NagRaj and his family members goes for pooja. Veerabhadram and Sarath goes to temple and they witnesses how snakes are performing Abhishekam and Pooja to Lordshiva and they removes their Nagmanis and keeps them near Lordshiva. Veerabhadram and Sarath witness everything in shock.
Precap – Veerabhadram complains to his father in law that Sarath stealed nagmani killing snake boy. His father in law goes angrily with sword.