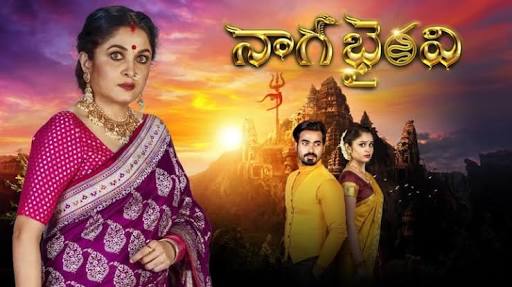 Naga Bhairavi Upcoming Story, Spoilers, Latest Gossip, Future Story, Latest News and Upcoming Twist, on Justhowbiz.net
The episode starts with Veerabhadram says he is getting scared. Sarath says don't get scared, see how those Nagmanis are shining brighter than stars. Shakuntala asks Jalaja to give water to their mom. Jalaja says you give me works but get more love from dad. Shakuntala says their Dad loves three of them equally. Jalaja says Dad bought you jewellery to you not me. Shakuntala says don't forget he bought you last year. Jalaja sats last year he gave money to your husband's business don't forget it. Shakuntala says leave it I will give her water. Jalaja says no need and takes water to her Mom.
Shakuntala gives tea to Krishna and Annapurna. Krishna calls his wife Rupa and questions why she is not stopping his sister to do the work. Rupa says sister in law is not allowing me to work. Everyone smiles happily. Annapurna asks Krishna to always take care of his sister's. Krishna promises her. Annapurna asks where son in laws went? Veerabhadram thinks I bought you here to make you do my work and he encourages Sarath to get Nagmani when Snakes are in drowzy mode and tells him that he is scared.
Sarath goes to temple crossing the snakes and takes Nagmani from lord Shiva. Veerabhadram thinks to kill Sarath and plans to take Nagmani from him, he aims pistol at Sarath but it kills NagRaj son. Snakes returned to their human forms and cries seeing their son is dead. Sarath runs from that place. NagRaj follows Sarath. NagRani cries holding her son body.
Veerabhadram goes to home and informs to his father in law that Sarath stealed Nagmani killing one of the snake boy and runs from that place and big snake is running behind Sarath and it may kill him. Krishna's father gets angry and goes out taking his sword. Veerabhadram follows him.
Sarath dashes with his father in law and he drops Nagmani and begs his father in law to save him from snake. Krishna's father says not snake I will kill you for harming my family goddess, he raises sword. Sarath begs him to forgive him for his wife and your daughter won't live without me so please think about my son and daughter.