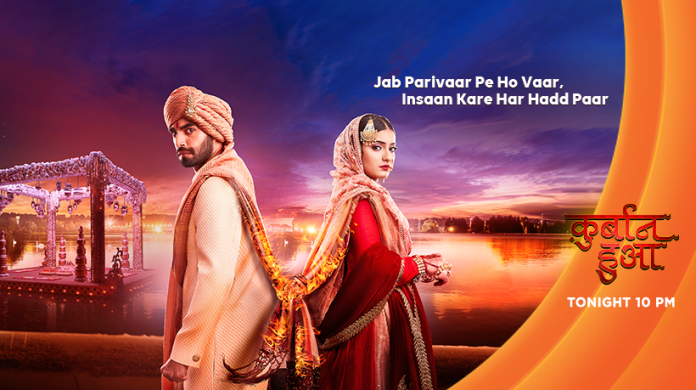 Qurbaan Hua Upcoming Story, Spoilers, Latest Gossip, Future Story, Latest News and Upcoming Twist, on Justhowbiz.net
Neel tries to wake up unconscious Chahat but she doesn't get up so he lifts her and takes her in and makes her sit on a chair. He pours water on her and she wakes up and stares him while he caresses her. She says that she knew he would come back for sure but Aalekh pulls him and throws him away from her.
He lashes out at him saying that he is taking advantage of her misery for her first husband. Neel says angrily that he is only husband and he is alive but Mami comes and says that he is lying and is alive. He asks how can he convince them that he is Neel but three of them don't believe him.
Naveli mocks him saying that he came her for money or maybe he wants Chahat which makes him angry and he is about to lift his hand on her. He controls himself and shuts her up and also confronts Aalekh that he should have been mourning for his death but he is hell bent on marrying Chahat after his deatg news. He challenges that he won't let anyone force themselves on Chahat now and throws the mandap out. Aalekh takes his collar and shouts at him when Vyas ji also comes.
Aalekh says that this imposter is claiming to be Neel when Neel is dead but Vyas ji says he is alive. Aalekh says he himself saw the molten iron but Vyas ji says that he has proof that forensic team didn't find a single trace of Neel in that molten iron.
Aalekh wonders how could Neel survive that iron while Vyas ji scolds everyone for resisting Neel's existence when he has himself come there. Mami takes off Neel's mask and by seeing his face everyone gets shocked seeing his changed and burned face. Mami says that he is some imposter but Neel says that it is him only.
Neel tells that the hot iron fell on his face which destroyed his face but a man took him from there and saved him but he couldn't see his face. Chahat says they will find that man out and thank him when Aalekh interrupts her but she angrily says she is Neel's wife. She says she doesn't doubt that this guy is Neel and takes him inside.
She tells him that without him this house had become so empty but now everything will be fine. Mami stops them and says that she is doing wrong by taking any man upstairs but she doesn't listen. Neel notices Saraswati's photo kept near sofa and says that her photo should be kept at the place where she used to spend most of the time.
Neel asks Chahat for the rakhi that got stuck in her bangles and she takes him to room and expresses her happiness. Neel turns off the lights and says that he doesn't want her to get scared seeing her face like Vyas ji. She says she won'tbe scared but he feels bad about his appearance and shows him his face.
Mami ji asks Vyas ji to make Chahat understand things while Neel tells that after that incident when he saw himself he couldn't tolerate. She also says that she knew that the person who she used to see was him only. He says that she got scared by seeing his face when he came to rub mehendi but she says that since some days she was not in her senses and doesn't remember any of it.
Aalekh thinks of a way to get Chahat has he wants her by hook or crook. Neel hurts himself because of his face and says this is the result of all torture he has done on her. He asks her to go away and pushes her unintentionally, and apologizes for that. She says that she can't leave the person who saved her life knowing that she is his enemies daughter. He says that he had promised to keep her safe which he had to fulfil, and when he saw her below the hit iron then he realized that she had become an important part of his life.
Chahat says that she also has some responsibilities towards him and she cannot leave him in this difficult phase. He says that she should not worry for him and staying with him is not easy as he has become a monster now. She tries to comfort him and says she won't let him hate himself. The episode ends.