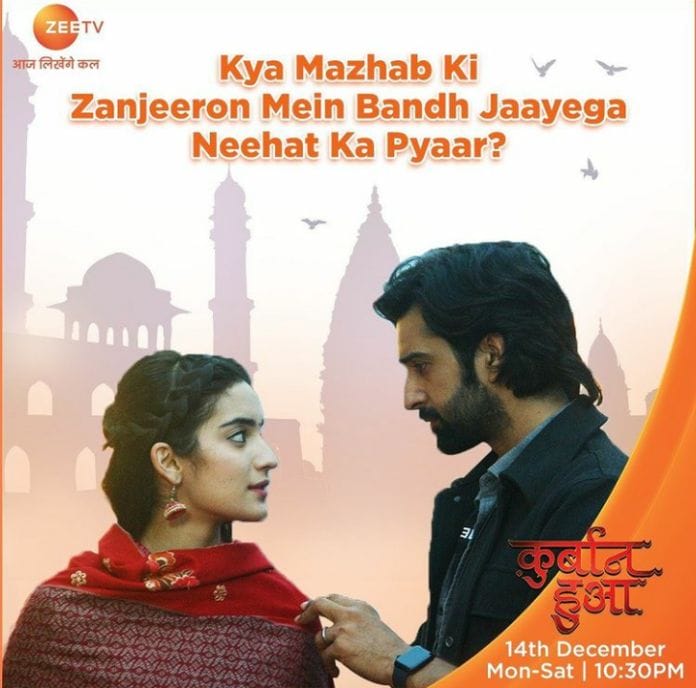 Qurbaan Hua 26th April 2021 Written Update On JustShowbiz.net
The episode starts with Neel talking about going to Goa while Chahat says that she will come along with him. Chahat says that she works for his family so Vyas ji is like her dad so she will come to help. Neel and Chahat reach to a big house in Goa and she asks him why has he taken such a big house so he tells that Bhopu is going to bring the whole family here. Neel gets irritated by her multiple questions so she shuts up and goes making a sad face. Neel stops her and puts his hand around her shoulder which makes her nervous. He tells that he got attacked and the attackers might target his family so he wants to bring them here to make sure of their safety.
Chahat gives a weird reaction and makes excuse of cleaning the house but he stops her and asks her to rest as she seems tired. Neel asks her to come along to his room but she objects that she can't stay with him in same room. He says that he doesn't differentiate between servant and boss so she can stay without any tension. Chahat gets nervous but follows him to the room, she sees a mattress and starts spreading it but Neel asks her to sleep with him on the bed. He pushes her in the bed and lies down on other side.
Neel feels hot so he takes off his shirt which makes Chahat uncomfortable. He says that he can't sleep with shirt on in such a weather and asks her to take off her shirt too to become comfortable but she somehow denies that. He falls asleep and grabs Chahat in sleep, she is surprised and goes on a memory lane. Next morning Neel wakes up and sees Top Singh sleeping holding his hand the way Chahat used to. He gets embarrassed and gets away from Chahat and wakes her up in anger. He asks whether she was holding his hand the whole night so she makes an excuse that it is her habit and she had already warned him not to sleep with her but he didn't listen.
Neel asks her to clean the house and takes a towel for going to bath but she asks him not to take bath saying some medical terms. He asks whether she is really a cook or doctor so she reminds him about the excuse she made earlier. Neel suggests that he will take a sponge bath so she offers to send someone from the reception. She goes to reception and asks for sending someone for sponge bath, they bring a girl who shows interest in Neel. Chahat feels insecure and cancels the plan. She herself goes to give him bath and rigorously rubs his back which hurts him. Neel asks her why is she being so hard and she is about to speak the truth but controls herself.
Chahat makes some excuse and Neel notices that he kurta is wet and asks her to change it before falling ill. He tries to force her but she feels embarrassed and resists, that moment they hear Shlok's voice and Chahat runs to welcome them. Alka asks her about Neel when he comes and Alka hugs him which affects Chahat. Mami tells him that Shlok has gone for a bath while Chahat goes to keep the bags inside. Neel requests them to not go out of the house, he notices Dua and gets irritated. He taunts her but she makes fun of him and says that she always prays to never leave Shlok.
Mami takes Dua to room while Neel asks Alka to not hug him like that as he cannot give her the love she wants. He goes while Alka sadly thinks that she will not hug him but will never stop waiting for his love. Bhopu tells Neel that Aalekh is behind Vyas ji's kidnaping, meanwhile Naveli is running to escape from Aalekh but she collides with a woman and breaks her candles. Naveli begs for help from that woman so she takes her inside a house while Aalekh loses track of her. Neel tells Bhopu that Aalekh can't be involved while Chahat hears them. The man who told Neel about Vyas ji meets Ghazala and tells that he has done what she asked him to do and now Neel is in Goa with his whole family. The episode ends.