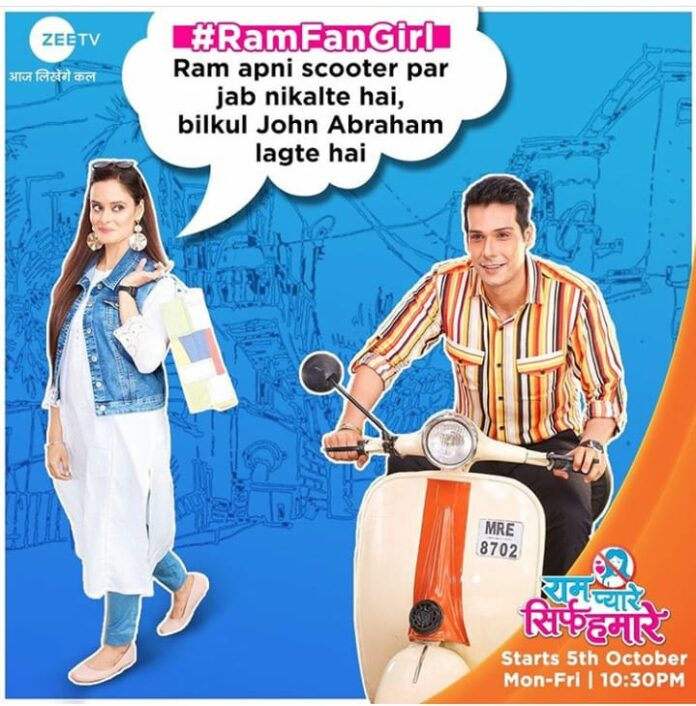 Ram Pyaare Sirf Hamare Upcoming Story, Spoilers, Latest Gossip, Future Story, Latest News and Upcoming Twist, on Justhowbiz.net
Episode starts with Balwan warning tailor to make his wedding attire within one day, at that time koyal comes there and says about Ram being happy about Dulari and Balwan's wedding instead of being sad as he loves Dulari a lot and says that something is fishy to which Balwan says that Ram got scared of him that's why doing so.
Dulari is pacing here and there waiting for Ram while Ram comes there with Irfan and starts decorating the house saying it should look like a wedding house, Dulari tries to talk to him but he ignores her purposely, she turns him forcefully and ask how can he write her name with someone else's in the wedding card? They falls in an eye lock (Soft music plays) Ram says she have the solution and ask her to decide what she wants to do, Dulari looks at him while he leaves from there and Dulari cries.
At night Ram-Dulari's house is decorated beautifully and ladies from neighbourhood were crying as Ram is getting married. Patang sees cherry crying and sits next to her faking his cry, cherry asks why is he crying to which he says that he can't see disturbance in his sister's married life and puts his head on cherry's shoulder but she pushed him away and goes from there.
All were waiting for Dulari to come out while Ram prays that Dulari gets back to her traditional look before Balwan arrives so that he will get shock and cancel this marriage, Koyal asks him that what if Dulari won't come back in her original look? To which Ram says he trust his Dulari moreover she loves him a lot, so she will surely come in her traditional look and if it doesn't happen then he will himself put mehendi of Balwan's name on Dulari's hand, while koyal smirks.
Dulari comes out wearing indo-western dress which shocks Ram, Koyal provokes him against Dulari while Ram gets sad, Dulari thinks that she can bear anything but cannot see Ram getting harmed. Dulari pretends to be happy in front of Ram but wipe her tears turning around (saiyara mai saiyara tune plays), Ram touches her and says not to cry while she turns and they have an eye lock (moh moh ke dhaage plays).
Ram asks why Dulari is doing this to which Dulari says that its not her but Inspector who is doing all this that too forcefully, Ram asks her to stop being so adamant to which Dulari thinks that she can do anything to protect Ram and asks him to have trust on her and they again falls in an painful eyelock (song plays).
Balwan fires in air and grabs everyones attention, he comes towards Dulari and ask to start mehendi function, Ram comes forward and greets Balwan which shocks evryone including Dulari. Koyal makes Dulari and Balwan sit on the stage and compliments Balwan, Ram starts singing and dances with Dulari and Balwan while Koyal joins him, Dulari tries to control her tears.
 Balwan points gun towards Ram and ask him to apply mehendi to Dulari, while Dulari gets shocked and takes promise from Ram to put mehendi on her. Koyal comes there in veil holding god's idol, Balwan introduces her as his sister meanwhile Koyal removes her veil which shocked everyone, Dulari gets angry and burst out on koyal while koyal smiles and says she is going to marry Ram and puts Ganesh idol there.
Dulari prays to god and asks for some miracle to solve this problem, koyal comes forward and strarts applying mehendi on Dulari when a rat come towards Koyal's leg while she was making "B" on Dulari's hand and as a result it turned out to be "R", everyone gets happy seeing this while Dulari thanked God, seeing rat all starts running and goes out of the house leaving Ram-Dulari alone.