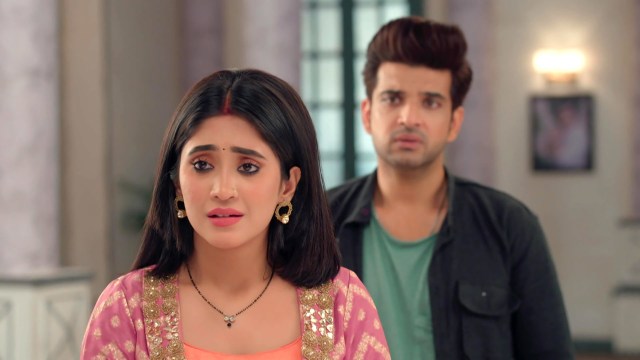 Yeh Rishta Kya kehlata Hai Spoilers, Upcoming Story, Latest Gossip , Future Story, Latest News and Upcoming Twist on Justshowbiz.net
Shivangi Joshi, Mohsin Khan and Karan Kundra starrer 'Yeh Rishta Kya Kehlata Hai' is gearing up for another high voltage drama. Last we reported, Suhasini lose her memory. She misunderstand Sirat as Kartik's wife. Doctor as Goenka's not to exert Suhasini. Sirat decides to tell Suhasin about her truth. Doctor stops Sirat and asks to continue the drama. Sirat cries and prays to God. She asks God why he keep testing her. Sirat stands confused and says she can't leave Suhasini in this condition. Manish come and console Sirat. He apologize Sirat for the trouble because of Suhasini. Suwarna come and asks Sirat to come as Suhasini is looking for her. Sirat wishes Suhasini gets well soon.
Suhasini looks for Sirat. Sirat come. Suhasini asks Sirat if she fight with Kartik as she looks upset. Sirat says nothing. She gets a call from Ranveer. In the meantime, Suhasini enquires about Mauri. She asks if she left for Jaisalmer. Sirat tells to Suhasini that Mauri has gone to the temple. She think to leave the place before Kartik arrives. Mauri come and see Sirat. She asks Sirat if she hasn't went to Jaipur. Suwarna tells to Mauri about Suhasini's accident. Mauri gets shocked. Suhasini than asks Sirat to call Kartik and asks latter by when he will reach. Sirat sits in a fix. Ahead, Ranveer learns about Suhasini's accident too. He decides to help Goenka's.
Now in the upcoming episode we will see, Suhasini will see Ranveer and Sirat's picture. She will question their relationship. Suwarna will try to make an excuse but Kartik will stop her. Do Kartik will reveal Sirat's truth to Suhasini? Well, to know more keep watching Yeh Rishta Kya Kehlata Hai mon-sat.
Follow us for more news, spoilers and latest updates.