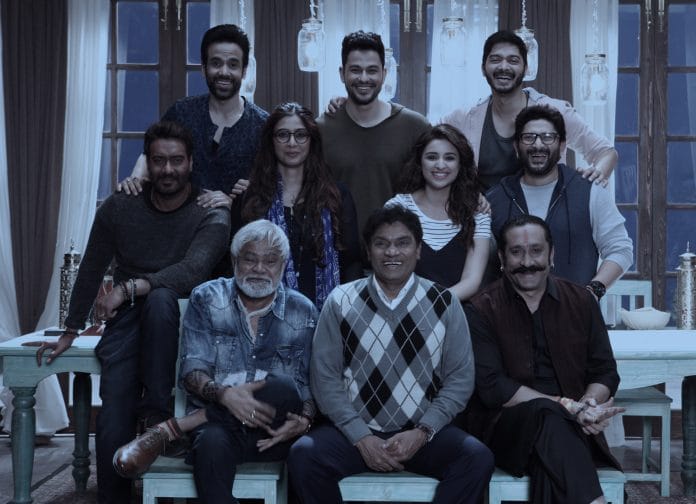 Rohit Shetty's blockbuster franchise Golmaal breaks the all records with it's fourth installation on Bollywood. And it is because an unique concept of "No Logic Only Magic" and a super loving multistarrer cast included Ajay Devgn, Parineeti Chopra,Tabbu, Kunal Khemu, Johny Lever, Arshad Warsi, Tushar Kapoor, Neil Nitin Mukesh, Shreyash Talpade and Prakash Raj. But if it is ever made on TV, which actors we choose to would replace main leads are these actors.
Vivian Dsena as Gopal (Ajay Devgan):
We would like to see Vivian Dsena in Ajay Devgn's rowdy plus sneaky character Gopal. Because we thought that Vivian has done many serious roles till now. But watching him doing comedy on screen will be an enjoyable and fun experience for the audience.
Shaheer Sheikh as Madhav (Arshad Warsi):
The next character of this film who plays an important role is Madhav aka Arshad Warsi on screen. We think Shaheer's comic timing is amazing. So, he will best fit the role as Madhav is a nuisance character who loves to irritate Gopal and he is his frenemy.
 Parth Samthaan as Lakhsman1 (Shreyas Talpade):
The next handsome hunk in our Golmaal list is Parth Samthaan. Parth is a chocolaty boy of ITV. But it's become so interesting if he gives some laughter goosebumps on screen to viewers as Lakshman 1.
Mohsin Khan as Laksman2 (Kunal Khemu):
Next dashing hero of telly town in this list is Mohsin Khan taking place of Kunal Khemu as Lakshman 2. Mohsin's sense of humour is amazing. That is why we feel he must have a part in it.
Vikram Singh Chauhan as Lucky (Tusshar Kapoor):
Now it's a chance of Golmaal series's most liked character which comes first in the minds of people when they think of film. The character is Tusshar Kapoor aka Lucky. This role is entertaining as challenging as well. He cannot speak but his expressions and trying to speak makes the character super adorable. But we feel that Vikram with his talent can make viewers feel the same vibe of Lucky.
Sourabh Raaj Jain as Nikhil (Neil Nitin Mukesh):
Now no blockbuster film or serial can be made without a dangerous villain. So we want to see Sourabh in the character of villain Nikhil of this film. We all know Sourabh Raaj Jain plays negative roles very well. So there is hardly any better choice for this character than him.
 Surbhi Chandna as Anna Mathew (Tabu):
In the film Anna Mathew is quite an interesting character as she has the superpower to talk to ghosts. Surbhi Chandna's comic timing is excellent and we wish she does this role if it is remade on TV.
Aditi Rathore as Khushi aka Damini (Parineeti Chopra):
Now it's a turn of film's real ghost who was Parineeti Chopra. We think, Aditi Rathore is the right choice for this role. Watching her doing comedy as a ghost would be a very unique experience for her immense fan base.
So these the actors we chosen, if Golmaal Again is going to remake on ITV. How much you enjoyed our this article? Tell us in comments. Let's Get Buzzing…!!!