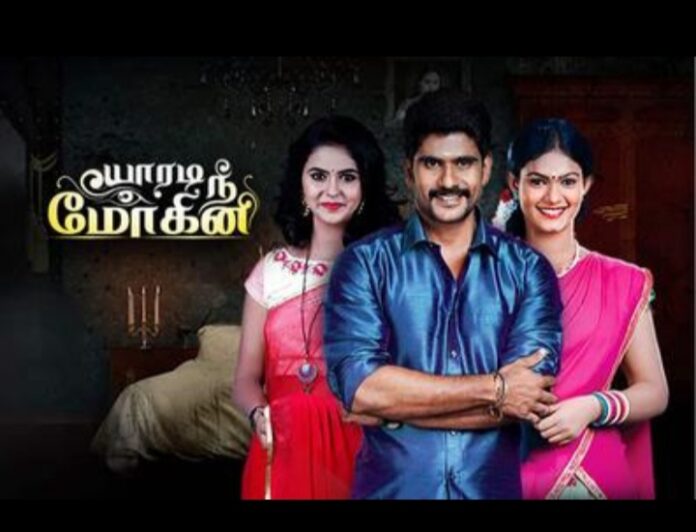 Yaaradi Nee Mohini Upcoming Story, Spoilers, Latest Gossip, Future Story, Latest News and Upcoming Twist, on Justhowbiz.net
Today the episode begins with…. Swetha meet Nambothri and asked him to change Krishnan.. Nambothri asked why.. Swetha said Muthurasan desire is to marry before him… so he asked… Nambothri said I am doubted at Muthurasan.. I am happy about his behaving… Swetha said he is behaving properly… Nambothri said he is acting… I think… Swetha became shocked…
Nambothri asked Swetha to test Muthurasan… Swetha agrees… Nambothri asked Swetha to say this… First we will marry then we will together and search him… if he agrees .. he is mesmerized… if he won't then he is acting… Swetha agerrs and ran towards her room..
Muthurasan listening everything… and went in to room and acted like dancing for the song… Swetha arrives… Muthurasan asked Swetha… did you meet Nambothri.. Swetha said after marriage Nambothri will help us… Muthurasan agrees… Swetha believed that he is mesmerized…. she showed the sign to Nambothri… Muthurasan asked Swetha to enjoy the song…
The latter, Muthurasan asked Swetha to get ready for wedding shopping… Swetha agrees…
On the other side, in the home…. Simbaran sister is going to home.. Simbaran compel her sister to stay… Simbaran sister inform to everyone… and she is going to home… Vennila arrives… she informs to her too… Vennila said there are lot of this to do… you go afterwards.. Simabran hugged Vennila…. Simabran sister reminds quiet… Simabaran become overjoyed…
Vennila said she has to mount the lamp…then she has to go to kitchen…. then we have to put new Thali for her… lot of this things….are there… come on first we will go…
Poongothai hears everything and inform it to Nilambari… Nilambari become tensed and said I will see how that Simbaran will mount the lamp… she angrily came… On the other side, All arrives…Vennila asked Simbaran to mount the lamp…. Simabran prays to the god and going to mount the lamp…
Nilambari asked Simbaran to stop… All become shocked… Simbaran said I am Karthik's wife.. I have all rights to mount the lamp… Karthik too supported Simabran… Nilambari asked Karthik to be quiet… Nilambari constantly argues with Simabran…
Nilambari said who gave this right… you have any right to mount the lamp… Vennila support Simabran by saying…she has all the rights…Janani too support … Nilambari scold Janani and asked to be quiet… Vennila agrues with Nilambari… Nilambari said do what you like and went…
Vennila asked Simabran to mount the lamp… Simabran mount the lamp… Nilambari become anger and said I will see… and went… Kathik going to phone Muthurasan… Vennila stop him and share everything to him… All become shocked and said this Swetha will go any extend to marry him… why are you send him alone…
If anything happens… Karthik andother become afraid…Vennila too afraid…Karthik phones Muthurasan… Muthurasan with Swetha.. he won't pick up the call… Karthik became afraid.. the latter, Vennila phones Muthurasan… he won't picks up the call…
Vennila scared.. Muthurasan laments by saying why they calling me….
with this the episode ends….