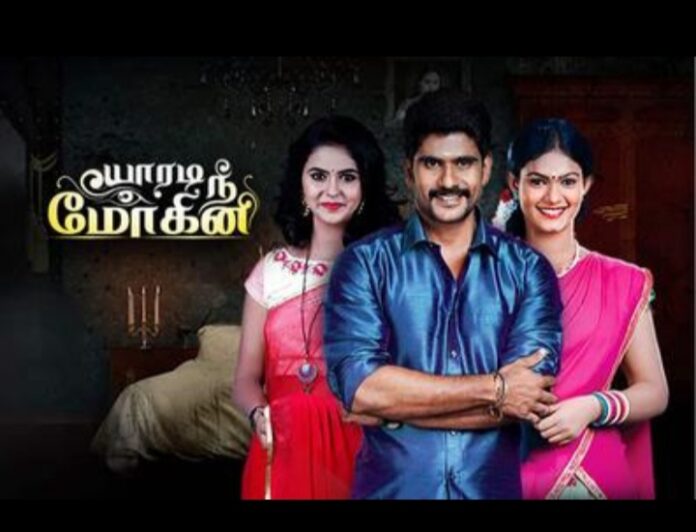 Yaaradi Nee Mohini Upcoming Story, Spoilers, Latest Gossip, Future Story, Latest News and Upcoming Twist, on Justhowbiz.net
Today the episode begins with…. Muthurasan acted like fainting… when Nambothri arrives… Swetha believed that Chitra's spirit arrives in his body… but Nambothri suspects Muthurasan….
Swetha inform to Nambothri that Chitra's spirit arrives in Muthurasan body…. she throw the Thali and beat me…very harshly…. when she looked at you…and scared…. and went off…
Nambothri sprinkle some water in his face…Muthurasan acted like fainted and wake up and asked what happen… did I tie the knot.. Swetha said Chitra's spirit arrives and spoiled everything… Muthurasan stages an act before Nambothri by saying constantly this Chitra, Vennila stop the marriage… Muthurasan asked Nambothri to tie the thread…
Nambothri chant mantras and tie the thread… Muthurasan said now no one will stop us… Nambothri went out with his disciple… and asked his disciple to monitor Muthurasan… and said I am suspecting Muthurasan… and leaves…
On the other side, in the home… Vennila, Simbaran, Kalai arrives to Nilambari room to call her… but Nilambari is sitting angrily inside the room…
All arrives and inform that Simbaran is going to cook… Nilambari shouts at her and said who are you to enter into my kitchen and argues with her.. Vennila loses her calm and said we respect and call you… but you humiliates us… Vennila said Simabran has all the rights… with my permission… she is going to cook.. and left room…
Nilambari call Poongothai and screams by saying… what is happening in this home… Poongothai asked what happen… Nilambari screams by saying… without my permission… she is going to cook… this won't happen… go and fire Simabran saree… so that I become happy…
Vennila, Kalai, Simabaran, Pooja arrives happily…to kitchen… Vennila asked Simabran to boil the milk…Janani, Pooja mock at Simabran.. all giggled…. at that moment Poongothai arrives and acted… All believed her… The latter, Vennila asked Simbaran to prepare coffee for everyone… Pooja mock at Simbaran…
Karthik arrives to Kitchen and urge Vennila to come… Vennila and Janani went…Karthik said I meet the priest… Priest said Muthurasan in danger.. Vennila become scared…. Karthik said only the deity will save him…Vennila sacred and said nothing will happen to Muthurasan…
On the other side, Pooja receives a call..so she went out… Poongothai, Simabran,Kalai alone there in kitchen…Nilambari stand out the kitchen… Simabaran preparing carrot halwa… she is cutting the carrot… Poongothai asked Simabran shall I help you.. Simabran say i will do it…
Poongothai put a fire on the Simbaran sari and went out…. and stand along with Nilambari and watching…
on the other side, Karthik asked Vennila to do puja so that we will save Muthurasan… Vennila agrees… on the other side in the kitchen….. Kalai noticed the Simabran sari…. and show the sign… but Simbaran won't noticed her… she is busy in cutting…
Kalai show sign… then… she tries to call her… Nilambari and Poongothai looking at this… and shocked.. the latter, Kalai tries to get up… Simabran, Poongothai,Nilambari shocked..
with this the episode ends…