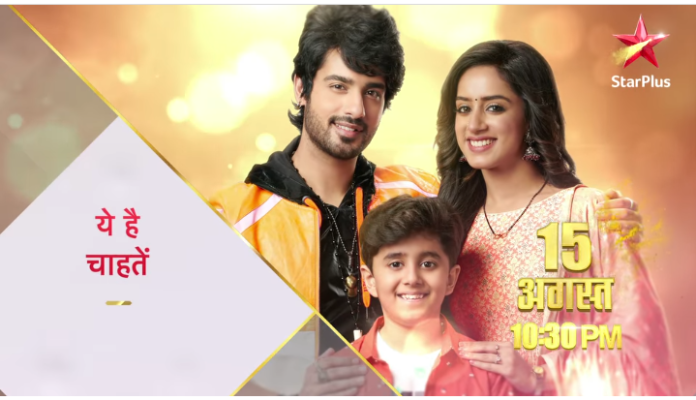 Yeh Hai Chahatein Upcoming Story, Spoilers, Latest Gossip , Future Story, Latest News and Upcoming Twist, on Justhowbiz.net

Episode begins with Saaransh tells Preesha that he finished all of his online classes and also his homework. She praises him for that he says their parents are intelligent. He asks him about Rudraksh's concert. She says everyone enjoyed it, it went really well. He says he also wants to enjoy his concerts from next time and asks her where is he now.
She says he is busy with rehearsal for next concert. He was about to go to him saying he misses him and wants to play with him but Preesha stops him saying she will bring him here because she knows his room number. She hesitates to knock the door first then does it.
.Keerthi opens the door wearing Rudraksh's shirt which shocks Preesha. She says Rudraksh is busy now so she can't meet him that time he comes there without shirt and asks Preesha that can't she see he is busy then why she is disturbing him. Preesha ssays she can clearly see how busy he is and her intention was not disturb him, it's just that Saaransh wanted to meet him that's why she is here for him.
Rudraksh apologize to Keerthi and says he has to meet Saaransh. Keerthi says she will wait for him and tells him to wear his shirt and Preesha leaves from there. Yuvraj overheard everything and starts to laugh and says Rudraksh changed totally like he hates Preesha now and being lovable towards Keerthi. He says Rudraksh should keep continue his game like this then Preesha automatically will come to him without him doing anything.
Keerthi asks why he asked her to act in front of Preesha and what's the need of these flirting drama and says she thought they loves each other then why he is making her jealous. He says he can't tell her anything but he has to hurt Preesha and for that he can go any extend. She says he loves Preesha so much and it's also visible that Preesha also loves him. He says she is wrong. She says he is angry now later he will agree with her. He says she helped him that's not mean she will lecture him.
Rudraksh comes to meet Saaransh but Saaransh denies to talk to him saying he is angry because he waited for him from morning but he didn't came to meet him and forgot him too. Rudraksh says he was busy with his work. Saaransh asks he was busy with what.
Rudraksh hesitates to reply him and Preesha says he was busy with Keerthi in her room for his rehearsal. He says tomorrow he will come to Saaransh only directly after his concert and will play with him and tells him to forgive him this time. He takes Saaransh inside and Preesha locks the room door. Rudraksh sings a song for Saaransh. Preesha thinks she will tolerate his behavior until the truth comes out but he just needs to stay with Saaransh like this.
Yuvraj meets Keerthi and says he can do whatever she wants him to do for her and praises her voice. She slaps him and calls him cheap and pushes him. He notices Sharda's picture which has cross mark in her cupboard.
Rudraksh notices that Preesha sleeping in sitting position and was about to help her with pillow but suddenly recalls Rahul's words. Next day, Rudraksh praises Keerthi. Keerthi says she is jealous of Preesha because she has such a sweet husband. Yuvraj opens Keerthi's cupboard without anyone's knowledge and gets shocks seeing she wants end of Khurana family and clicks pictures.
Episode ends.
Precap – Saaransh shocks seeing Rudraksh with Keerthi. Yuvraj tells Preesha about Keerthi's cupboard.