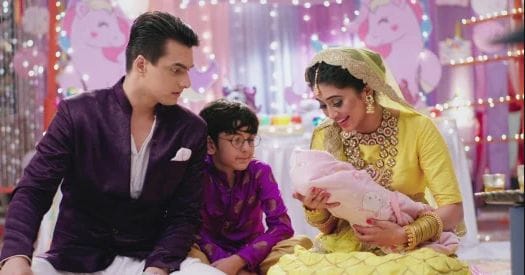 Yeh Rishta Kya kehlata Hai Spoilers, Upcoming Story, Latest Gossip , Future Story, Latest News and Upcoming Twist on Justshowbiz.net
Today's episode starts with Suhasini saying Navratri about to begin. Suwarna, Surekha and Gayu prepare dupatta for the Navratri. Suhasini decides to celebrate the festival because of Akshara. Naira says to Akshara that she is lucky among all the children because she is getting more love. Gayu interrupts and says all children are lucky including Vatsal. Ahead, Krishna comes and says that she has prepared design for her sister Akshara's duppata. She asks Naira if she will fix it on her Navratri dress. Suhasini straight away say No to Krishna. Kartik and Naira feels bad for Krishna. They decide to reveal to family and Kairav that they have signed the adoption papers.
Here, Krishna gets hurt. Naira sees her. Other side, Kairav shares with Vatsal and Krish that why Kaira is making Krishna his sister inspite of their promise. He says he don't want any other sister. Krish says Parents don't think about the children. Vatsal says his father too don't love them. Kairav decides to talk with Kaira.
Kairav goes to Kartik and Naira and gets stunned. He sees Kaira feeding his favorite dish to Krishna. He recalls his moments with Kartik and Naira and cries. Here, Kartik and Naira waits for Kairav. Krishna praises the food. Kairav runs out from the house and hugs Manish. Manish asks Kairav why he is upset. Meanwhile, Kartik and Naira decides to talk with Kairav without wasting more time.
There, Kairav tells to Manish that he has spotted Kartik and Naira signing the adoption papers. Manish console Kairav and says he will talk with Karitk and Naira. Kartik and Naira comes and asks Kairav what happened to him. Kairav runs from there.
Manish reveals to Kartik and Naira that Kairav know they have signed the adoption papers. He gets angry at Kaira for adopting Krishna. Naira goes behind Kairav.
Manish scolds Kartik for not listening to anyone. Kartik makes Manish recall about his second marriage and tries to explain him that his love never faded so he too believes his will not fade for Kairav or Akshara. Kartik adds their daughter whom they lost first has returned back as Krishna.
Other side, Kairav asks Naira why she made Krishna his sister. He asks Naira if she don't like him anymore. Naira hugs Kairav.
Further, Mainsh and Suhasini oppose Kartik's decision. Kartik gets adamant to adopt Krishna. Mainsh says he has a problem with him giving the girl Goenka's title. Meanwhile, Naira tries to convince Kairav. Kairav says to Naira she can give food and clothes to Krishna but urges her not to adopt her. (Episode Ends)
Precap: Kairav gets upset with Krishna again.