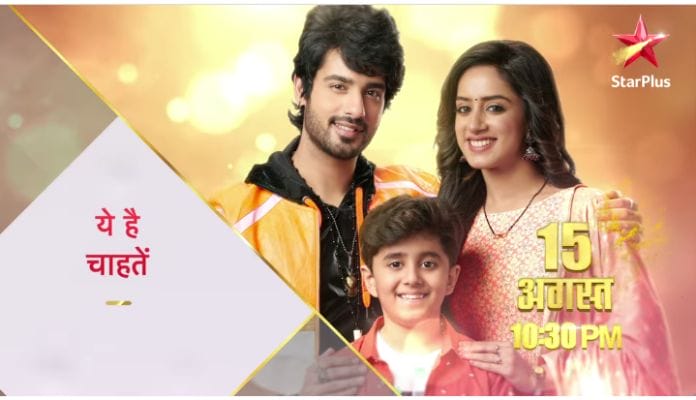 Yeh Hai Chahatein Upcoming Story, Spoilers, Latest Gossip, Future Story, Latest News and Upcoming Twist, on Justhowbiz.net
Episode begins with Keerti tells Rudraksh that her friend tracked Preesha's location and she is with Yuvraj. He thinks Preesha proving again and again that whatever he saw in that video is right and she is with him for Yuvraj only. Keerti shocks knowing they are at mental asylum. Other side, Manager tells Preesha that they needs to act careful because if Keerti is with her family then she can do anything, she is such a dangerous person.
Keerti thinks they are in that mental asylum to collect information about her and wonder how they get to know that she was there but whatever it is she can't let Preesha reveal her truth in front of others and she did a big mistake by going there. Preesha thinks she will stop Keerti from hurting her family and will save Rudraksh too from her, before that she has to tell the truth to him. Rudraksh says he is going to Preesha but Keerti stops him saying she is there with her ex lover and enjoying her life so he should also enjoy his life instead of going behind her and suggests him that let's do party and she knows there is one club. He says he is not in the mood.
She says by going there he will hurt himself only if he insults Preesha then and says they will wait for them. And sends him to change his clothes for party and tells him to do for her. Yuvraj says they got all official informations now they should not waste anytime. Preesha asks Manager is there any personal information he knows after Keerti run away from there. He tells them about one club and says that's hotel manager is her friend and gives the address of that club.
They leaves from there after thanking him. Keerti tells Rudraksh to cheer up saying they are going to the club to party. Rudraksh sees one couple spending time together and imagines him and Preesha in their place. He gets angry on himself for thinking like that she all did was betraying him and hurting him still. He wonders why he is not able to forget her when she loves Yuvraj and roaming with him happily.
Yuvraj was not allowed to enter the club saying singles are not allowed then he drags Preesha with him saying they are couple and Preesha to stays silent because they has to enter somehow. Rudraksh sees them from behind and enters the club. Preesha asks where is Monty. Yuvraj calls the Waiter and asks him about Monty. Waiter says he will come later. Yuvraj tells him to inform that his friend came to meet him once he arrives.
Preesha shocks seeing Rudraksh and Keerti there and says what if she has some plan that's why she brought him here and was about to go to him but Yuvraj stops her saying he won't believe her and they didn't clicked pictures too so they has to wait for Monty. He thinks it's time to make Rudraksh jealous and asks Preesha to dance with him so no one doubts them here. She hesitates first later agrees to dance with him. Keerti shocks seeing them there and wonders what are they doing here. She tells Rudraksh that his wife enjoying with someone else but he is keep thinking about her and she dances with him.
Rudraksh loses his control seeing Yuvraj dancing closely with Preesha and drags her from him and says Yuvraj can be her lover but she is his wife and without any shame how can she behave like this. She says she explained him everything was his misunderstanding but he didn't trusted her. Saaransh gets worried for Preesha, Sharda tries to console him. Keerti thinks Preesha reached till Monty but she can't do anything and till her revenge completes Preesha can't do anything. She mixes something in his drink and thinks now he won't remember anything tomorrow.
Episode ends.
Precap – Rudraksh wakes up and Police takes him with them. Ahana tells Preesha that Keerti is no more now.