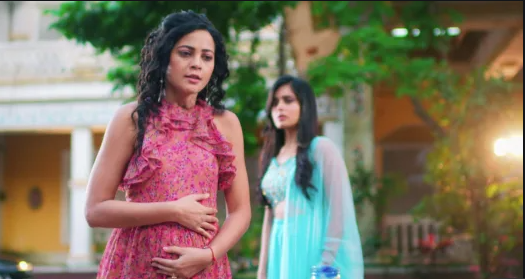 Yeh Rishtey Hain Pyaar Ke Spoilers, Upcoming Story, Latest Gossip , Future Story, Latest News and Upcoming Twist on Justshowbiz.net
Today's episode starts with Varsha about to close the door seeing Abir and Kunal on the doorstep. Kunal asks Varsha to call him inside giving her blessing. Varsha refuses too. Kuhu comes and calls Kunal and Abir inside. Kunal urges Varsha to send Kuhu with him. Varsha asks Kunal to either stay separately from Rajvansh's or prove her that he is a good husband.
Later, Parul learns that Vansh wants Kunal and Kuhu to live separately from the house. Abir says to Parul that Varsha must be stressed. Meenakshi interrupts and says Abir and Kunal can understand anyone except her. She decides to talk with Varsha and thinks she is wrong.
Mishti interrupts and says Varsha is not wrong. She further discloses that she has booked a flat at Mumbai and will be shifting with Abir. Kunal, Abir and others gets shocked. Mishti says when a baby arrives he takes a birth in a happy family thus for baby's sake she is moving out from house.
Abir asks Mishti about her decision. Mishti says she is serious. Kunal says but they don't want it. Mishti says she is thinking about baby. Meenakshi comes and says to Mishti she can't take the hier of the family out. Mishti says Abir don't value her so there is no use of arguing. Meenakshi closes the door of Mishbir's room and says sun rays also enter the house taking her permission. Abir breaks the door and comes out. He says to Meenakshi that he don't agree with Mishti. He adds, if she continues to show her adamant attitude than each one will leave her alone one day.
Ahead, Kuhu asks Abir to return her brother back. Mishti says she will not change her decision. Kunal leaves the room. Later, Mishti reveals that to bring the family close she has to do the drama of breaking them.
Here, Kuhu learns that Mishbir is shifting to Mumbai. Varsha says they took the right decision. Kuhu defends Mishti and Abir and says she shares differences with Mishti but never wanted Abir to get separated from Kunal. She says Abir and Kunal are like heartbeat and soul to each other and can't live separately. (Episode Ends)
Precap: Meenakshi asks Mishti what she wants in return to stay back in the house. Mishti says to Meenakshi that she is a successful business woman, yet lost everything today. Mishbir walks out from the house.