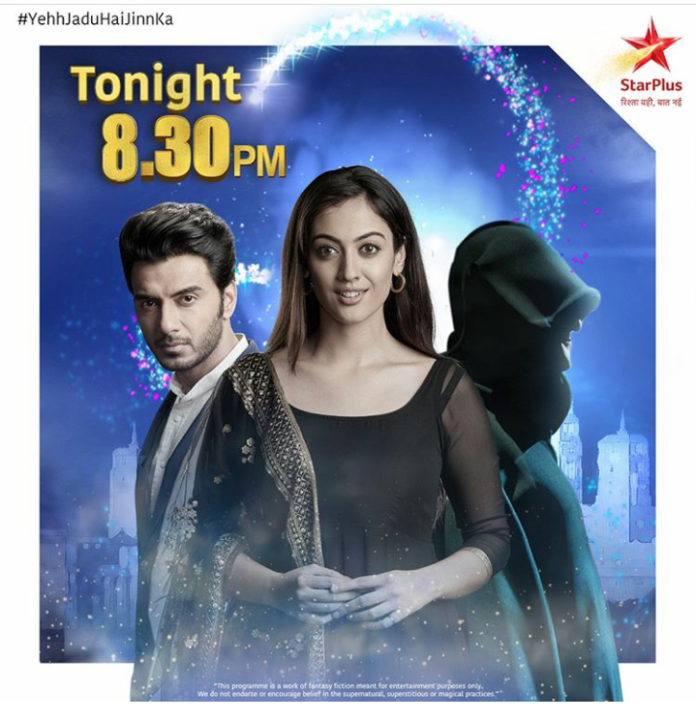 Yehh Jadu Hai Jinn Ka Upcoming Story, Spoilers, Latest Gossip , Future Story, Latest News and Upcoming Twist, on Justhowbiz.net
Episode begins with Roshni crying with the family members and telling them about Shayari being kidnapped. She says she was with me and suddenly she goes vanished in front of my eyes. Rubina comes in front of them from the room of Armaan and asks Roshni to come along with her as she suddenly starts to love her life more and more.
Roshni tries to say about her pregnancy but Rubina doesn't want to listen. Rubina manipulated Armaan and he is trained to do what Rubina asking him to do. Roshni tries to go near Armaan but she gets a push and falls on the floor and a power goes out of her ring and it touches the diamond and it goes inside the mirror and Aman comes back.
Aman helps Roshni to get rid of the rope with which she is tied and meets his family members. Rubina is shocked to know and see Aman is back from the world of mirrors. Rehaan is trying to motivate Shayari to fight back and stay normal and she is trying hard to fight back.
Chunbun is trying to suffocate with her net but Shayari tries hard but faints at that place. On the other side, Aman is asking Rubina to give him Armaan back. Rubina says I will not give him back because he is powerful and he can do anything.
Rubina mocks Aman and Roshni for being incapable of fighting alone and always needs help from someone else. Shayari slowly gains consciousness and asks Rehaan what he is trying to do and tell her about the evening. Rehaan says you are not that idiot that you don't understand what I am trying to say.
Shayari says yes I am not an idiot but surely wants to hear it from you some how. Rubina understands her powers and magic is getting weak on Armaan and she runs away from Junaid manzil using pital darwaja and comes Rehaan and Shayari and says to them you people have no time left for any talking as you are under my control now. Shayari and Rehaan is shocked to see Rubina with Armaan. In the house Roshni is continously crying and Baby asks Aman how he gets out of the world of mirror.
Aman says only sphiriti diamond can help me to get out of this world and I don't know how that stone came inside the mirror and helped me to get out. Rubina asks Rehaan and Shayari to get ready to die as they have only some time left in their lives. Aman and Roshni are trying to find out ways when baazigar comes and tries to tell them about Rehaan and Shayari location and Aman follows him. Later on, Rubina applies laughter smoke magic on Shayari and Rehaan and according to this they will die laughing together. Shayari requests Rubina to stop this but she doesn't listen and goes away from there.
Precap – Roshni asks Shayari to become the carrier mother for her child. Roshni says if not she then she will look for someone else to be the carrier but her decision will not change at all.