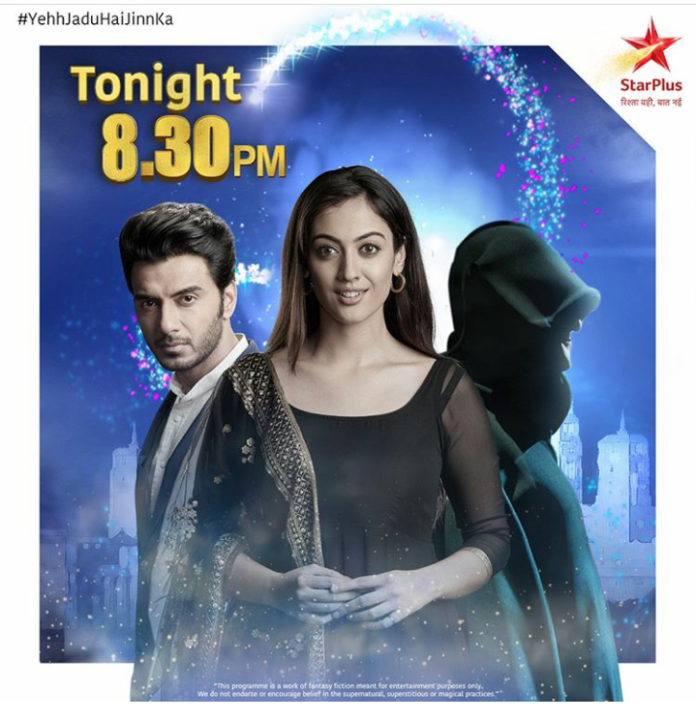 Yehh Jadu Hai Jinn Ka Upcoming Story, Spoilers, Latest Gossip, Future Story, Latest News and Upcoming Twist, on Justhowbiz.net
Episode begins with the queen spider approaching towards Armaan and at the end moment, Anjum keeps the Ilm-E-Jinn book and the queen takes a reverse step and goes towards the one who asked them to kill Armaan. Natasha asks his helper to go and check what is happening in the Junaid house.
Suddenly she notices all the spiders are attacking her and Natasha had a horrible end. Shayari notices the machine of Natasha and suddenly it bursts and Shayari says it is proved now that those spiders are sent by Natasha only. She cannot just end like this so it was she who become victim of her own game. Rehaan is in deep thinking that it is impossible that she will send spiders for Armaan. Sara and Saina says maybe she gets defeated by both of you always and that is why she wants to take revenge from all of us.
Rehaan says still the purpose is not coming clear. Both Rehaan and Shayari are arguing with each other when Anjum scolds them for being an idiot. Roshni cries and asks them to stop as she is fed up with all the problems that are going on in her life. She wants to spend some happy moments with her family in the last remaining days of her. She wants to have some blissful moments with her husband, son and family members.
She wants to create some beautiful memories but these problems are not even getting done for once and all. Moreover Aman is stuck in the world of mirrors and they don't know how to bring him out of that place. Roshni cries to think about the helplessness of the situation when Anjum asks her not to get demotivated. She says untill the time we are here with you, nothing will happen to you because we won't let anything happen to you at all. Roshni, Rehaan and Shayari are trying to send the book of Ilm-E-Jinn inside so that they can bring Aman out.
Rubina understands that Natasha is no more now and she gets angry to think that how they are managing to defeat theri enemies even without her help. She thinks they saved Armaan, Roshni both and soon they will bring out Aman from the world of mirror too. She thinks if Aman comes out of the mirror world then he can become a huge blockage in her path. Roshni, Rehaan and Shayari finally able to send the Ilm-E-Jinn book inside the mirror after a several fail attempts but Aman still doesn't come out as Rubina takes away the mirror through which the book came out first time.
The book gave the same clue to Roshni and she understands that Rubina is constantly playing games with them. Roshni goes to meet Rubina and challenges her that she will save her family members at any cost and from now onwards Roshni will consider Rubina as her enemy only. Only enemy and nothing else and she will also wait for the night of clymax to see the end of Rubina now.
Precap – Rubina loses it to know the graveyard is not for Roshni but for her.