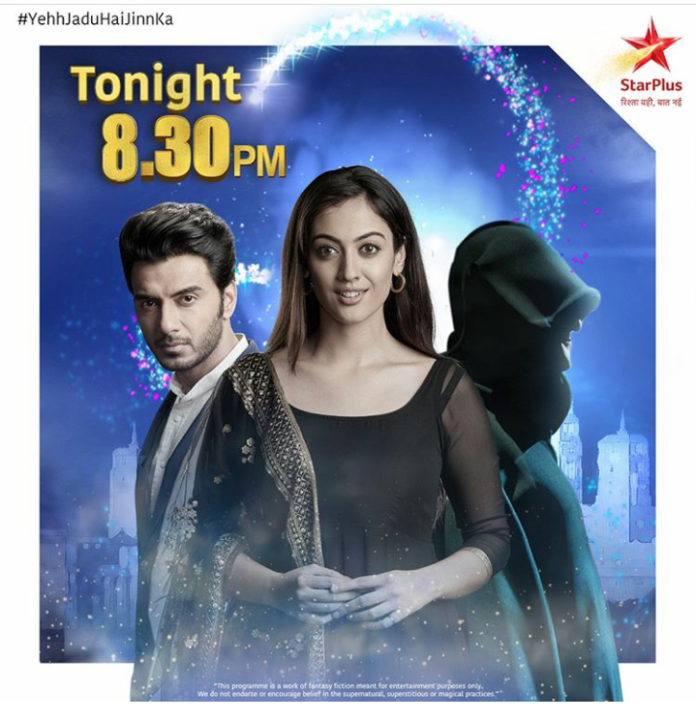 Yehh Jadu Hai Jinn Ka Upcoming Story, Spoilers, Latest Gossip, Future Story, Latest News and Upcoming Twist, on Justhowbiz.net
Episode starts with everyone is waiting for Roshni to be back from the house of Rubina. Baby says I told you all not to send her alone. Roshni is back from outside and informs all Aman is still in the world if mirrors. Rubina is making sure that he remains trapped and for this she is doing stupid tricks.
Rehana gets angry and says I will not leave her and Roshni says doing anything against Rubina can put the life of Aman in danger. Rubina decides to teach Aman and Roshni a great lesson. She decides to kill the entire family and before the death of Roshni she will see the death of all her family members. If the family is the main strength of both of you then I will ruin it for both of you.
Later on Rubina goes inside the hell of jinn and brings out two devils out of the hell. On the other side, Roshni is feeling pain in her lower abdomen and she tells her mother and in-laws about it. Salma asks the reason and she says this is the same kind of feeling which I had during my kidney operation. Everyone asks her what kind of kidney operation she is talking about and asks Salma are you trying to hide something?
Salma says to Roshni let me tell them about it. She informs the entire family members about Roshni donating the kidney to Parbeen and the family members gets overwhelmed to know this. Anjum says not only your heart is made of anglic powers but you yourself is an angel for the people around you. Sara says you have the same kind of pain during the birth of Armaan too so please go and check once too. Roshni goes inside and comes back with a pregnancy kit and shows everyone that she is pregnant again. Everyone rejoices in happiness and congratulates Roshni. Aman also gets happy to hear the news from behind the mirrors.
Roshni tells Aman that we are going to become mother and father again and Saima congratulates Armaan too for going to become the elder brother of the house soon. Later on, Rubina asks the dead jinn to wake up and help her as she saved them from the fire of the hell. She asks them to pay back for her favour and two shadows stand up and Rubina gives a loud evil laugh to showcase her victory.
Rehaan is angry and upset that Rubina is a traitor and she will do anything to get what she wants. Now along with Roshni even the life of the new born baby is also under radar. Roshni gets upset and Rehaan tries to make her understand that I am not angry with you and I am happy but still we are in a grave danger. Later Rehaan comes to Shayari and says thank you to her for being with him and his family in every obstacles. He asks her to come in the lawn too and she gets excited thinking what could be the reason behind it?
Precap – Roshni says to Aman that Armaan bas become so much responsible and matured. After all he is going to be the elder brother and Aman gets happy to hear this. Roshni and Aman tried to feel each other.