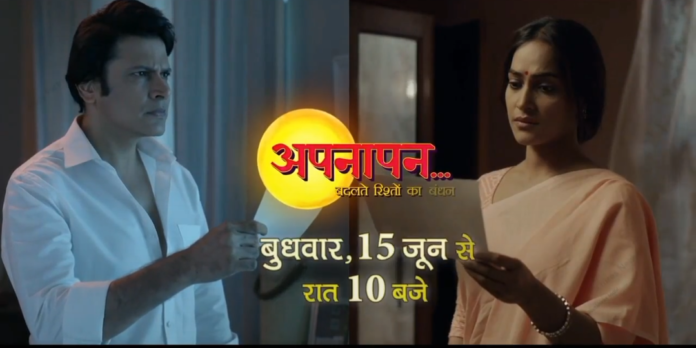 Appnapan Upcoming Story, Spoilers, Latest Gossip, Future Story, Latest News and Upcoming Twist, on Justhowbiz.net
The episode starts with Manna telling Gagan and Barkha how she teased their dad. Barkha looks on seeing Ishaan's message on Manna's phone. Gagan tells Manna that Badal handled everything perfectly and it happened because of mom's brought up. Manna agrees. She suggests playing ludo. Badal says he is going to play. Barkha agrees to play. Manna goes to download the message. Barkha feels conflicted thinking about whether to open Ishaan's message on Manna phone or not.
Nick dances with Pallavi. Pallavi asks him to stop it as she is feeling dizzy. Nick says he always wants to stay happy with her and wishes no one evil eye falls on them. Pallavi says an evil person is left from our lives so everything will be good. They hug each other. The entire family gets together at the dining table. Nick and Pallavi serve favourite foods to their kids. Badal thanks everyone for including him in their family. Pallavi hugs him and tells him that he is part of their family. Nick seconds her. Pallavi asks Harsh to forgive her. Harsh hugs her and apologises to her. They have a family hug. Manna says it's enough of emotional talk so let's play a fun game. Pallavi agrees. Manna asks them to reveal their one secret. They agree. Harsh reveals his secret. Next Manna says she doesn't have any secrets. Barkha asks Manna if she can know a secret, she questions Manna if she loves Ishaan. Pallavi asks what sort of question this is. Barkha says she doesn't have any feelings for him and leaves. Pallavi scolds Barkha for spoiling their moment. Barkha says they will resolve and goes behind Manna.
Manna apologises to Barkha and tells her that she doesn't want to hurt her and says she doesn't love Ishaan. Barkha confronts her, to tell the truth. Manna apologises to Barkha and reveals to her that she and Ishaan have feelings for each other. Ishaan comes there and tells he loves Manna. Barkha says she realised that their love is pure and tells them that they can reunite clearing up their differences. They feel happy. Ishaan proposes to Manna confessing his love.
Badal notices property papers and confronts Nick. Nick says he deserves the cafe. Badal asks him to name it on his son's name. Harsh comes there and tells Badal that his real secret he is jealous of him and asks him to accept the cafe and tells him that he will definitely become a famous chef. Badal thanks Harsh for giving him confidence. Nick hugs them and says he is proud of them.
Episode ends.
Precap – Ishaan confesses in front of Nick that he loves his daughter Manna.
Click to read
Appnapan 16th November 2022 Written Update: Pallavi and Nick's reunion