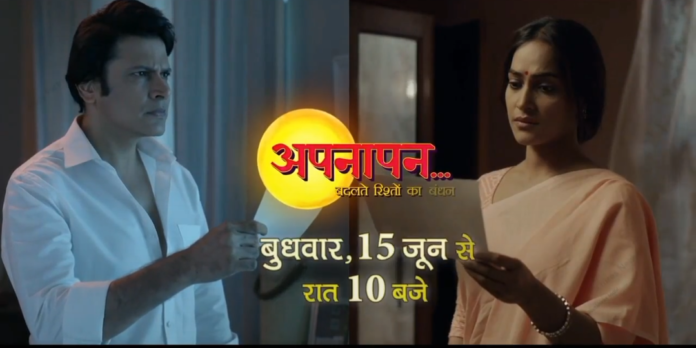 Appnapan Upcoming Story, Spoilers, Latest Gossip, Future Story, Latest News and Upcoming Twist, on Justhowbiz.net
Episode begins with a waitress coming and milkshake falls on Pallavi. Pallavi gets upset on her and scolds her. Shanky tells Lolita how Pallavi has taken a 360 degree turn. Pallavi leaves from there. The waitress asks Nick not to fire her as she is new and it was a mistake. Nick asks her to relax and says have food in the cafe as you have issues in ration. The waitress goes and mumbles how sir is so nice and ma'am is so rude. Nick says to Shanky how Pallavi has changed so much.
Outside the cafe, Pallavi says to Lolita that she is thinking to use office car. Lolita asks Pallavi what is wrong with her? She is behaving so weird. Pallavi says it's nothing, you always wanted me to enjoy life so I am doing it. Lolita says you know I have always kept your secrets safe so why are you hiding things from me? Just trust me, you won't believe that I care for you so much. Pallavi sees the blackmailer from far and changes the topic. Pallavi says let's have kulfi at that old place. Lolita says I am sure there is something wrong with you, I am going.
Later, Sonali comes to kitchen and sees Biryani cooked by Pallavi. Sonali says what's the occasion? Pallavi says Nick loves Pallavi so this is for our dinner. Sonali says what rubbish. Sonali sees the table decorated and panicks. Pallavi says I have some important discussion to be done with Nick as soon I will own the cafe. Sonali says Nick will give the cafe to Badal my son. Pallavi says when you see advantage you are owning Badal and so many years back you left him. Sonali says why are you talking to Nick? Should I tell Nick? Pallavi says yes tell him, I will also tell him about the attacker, you have only 2 days to solve it. Sonali says what rubbish? I don't know about the attacker. Pallavi says I know all the games you play specially the ones with my kids, so beware. Pallavi asks Sonali to go to the room, and don't worry I will not flirt with Nick, flirting with married guys is not my thing. Sonali gets angry.
Later, Nick comes home when Pallavi goes to greet him. Pallavi says Dadi and Nani are out and Sonali is in the room, so it leaves just two of us, let's have dinner. Nick says you still own the cafe and the house and I will give you everything you asked for, sorry for acting rudely with you. Pallavi says it's fine. Nick says I feel you have gone through something after the marriage, you can share with me, I am always yours. Pallavi says I can't. Pallavi gets emotional. Nick says that means there is something, you can tell me. Pallavi thinks how can I tell you that Badal is not my but Sonali and your son. Nick says you are pro at hiding. Pallavi says I have learnt from you only, all those years you went to New York but never bothered to know if I am alive or dead. Pallavi says anyways you have dinner, I had cooked biryani for you. Nick says we are not together but atleast we can have dinner together.
Nick and Pallavi have dinner together when Nick talks about past days. Pallavi says let's leave the past. Nick says I always see smile in your face when I talk about the memories of our 18 years together and your biryani has always made me remind of old beautiful days. Just then lights goes off and Nick hurts himself. Pallavi puts some spray on his sprain. Sonali is finding a torch when she sees someone behind the door and panicks. She sees blood and cries saying Pallavi if it's you then it's not funny. The blackmailer plays scary sounds when Sonali gets more scared.
Episode ends.
Precap – Sonali thinks to beat the person behind this. She opens the door and beats a person. Here, Pallavi and blackmailer plan to scare Sonali to take a revenge of a mother.
Click to read
Appnapan 7th November 2022 Written Update: Sonali's past starts to haunt her!