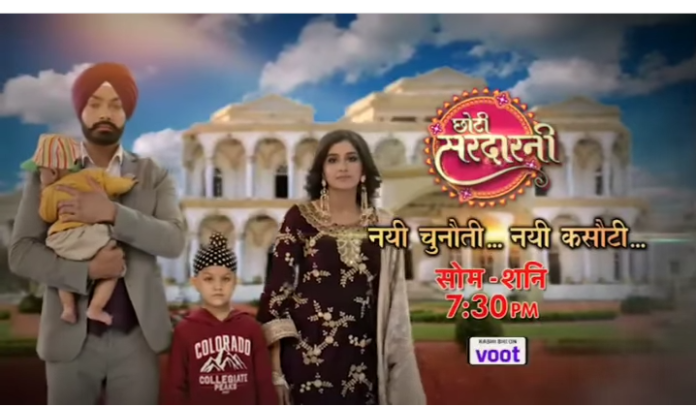 Choti Sardarni Upcoming Story, Spoilers, Latest Gossip , Future Story, Latest News and Upcoming Twist, on Justhowbiz.net
Episode begins with Harleen brings Sarab to house. Sarab's kids gets worried seeing Sarab's condition and asks what happened to him. She says he meet with an accident and tells Doctor to explain the medicine details to Samaira because she is the one who is going to take care of him from now on. Doctor says Sarab needs complete rest now. Seher asks Harleen about Meher.
Karan says he also wants to go to Meher. Harleen says Samaira is his mother not Meher and says Meher doesn't love him that's why she stayed away from him till now. Karan asks Param that doesn't Meher loves him. Param says Meher loves her kids so much. Karan asks then why she stayed away from them till now. Param asks Karan and Seher to pray for Meher's return and she will come to them for sure.
Sarab asks Meher to stay by his side in his unconscious state and says they should not separate from each other. Samaira holds his hand and says Meher won't return now and it's what God too wants that's why she left from his life and she won't come between them now. Kids prays for Meher's return. Meher reaches Gill mansion and Samaira notices her.
Meher was about to enter the house but Harleen stops her saying her relationship broke with this house already. Meher says that's not true. Harleen tells her to leave from Sarab's life and says Meher doesn't have any rights to enter this house. Meher says she has full rights to enter the house because she is Sarab's wife. Harleen asks from when she started to care about Sarab and her kids. Meher asks her to not talk about these 5 years and recalls how she came to Gill mansion after she released from jail and how Harleen didn't let her enter the house and accused her and her mother for all the problems.
She says Harleen told her that everyone forgot her so no one needs her in their life and says destiny wanted to unite her with Sarab that's why she is here now. Harleen says kids going to get another mother because she will make sure that Sarab marries someone else. She calls Security guard and tells him to throw Meher out of the house. Meher says she also decided to stay with her kids and her husband. Kids comes there and Param welcomes Meher inside the house.
Param says they has to inform Sarab about Meher. Kids runs towards Sarab's room to inform about Meher. Meher sees Samaira. Harleen says engagement preparation happened with Sarab's wish only and tells Meher to stay with Kaul only. Meher gets confused hearing her. Harleen shows Meher and Kaul's pictures to her.
Meher says Sarab didn't suspect her after seeing these pictures too and tears those pictures and says she can understand that what Samaira must be feeling now. Samaira says she too knows that Sarab loves Meher only and tells her to take care of him.Meher enters Sarab's room and he smiles seeing her. She hugs him who is laying on the bed and kids joins them. Meher hugs Param and Karan. Seher gets emotional seeing Sarab.
Episode ends.
Precap – Meher teach lesson to Gulwant for doing drama in front of Gill mansion.