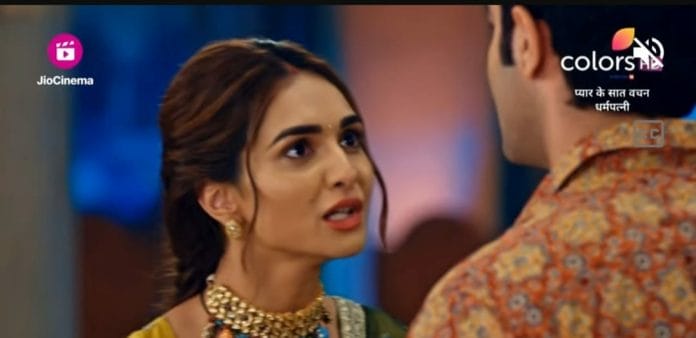 Dharam Patni Spoilers, Upcoming Story, Latest
Gossip , Future Story, Latest News and Upcoming Twist on justshowbiz.net
The colors show Dharam Patni is all about bad decisions, love and Pratiksha's fight for her rights.
The episode begins with Malhar unexpectedly showing up at Pratiksha's house, which stuns her. She refuses to let him in because her spouse isn't at home even though he wants to come in. She also invites him to come the next day. Malhar hands her certain documents that require Pratiksha's signature. She enters to fetch the pen. Malhar inserts certain chemicals into the drink while planning to ruin Pratiksha's nuptial connection. Additionally, he organises some powder that, if inhaled, may be harmful. Pratiksha will start coughing uncontrollably as soon as she inhales the powder and won't be able to stop. The Malhar's fulfilment would be aided by Pratiksha's instability.
Pratiksha eventually begins to cough as soon as she breathes in the paper's aroma. Malhar offers her the water glass that Pratiksha sips. Malhar stalls her by asking Pratiksha if she's ever missed him. She is perplexed when she hears his question and tells him to leave her home. On the other end, Ravi calls Pratiksha repeatedly, but Malhar prevents her from answering the phone. He also emphasises how close they were and how their union had been promised. Additionally, he admits that his weakness is for Pratiksha. She requests that he leave the house while simultaneously pleading with him to stop. Malhar checks to see if he still has a soft spot.
Kavya makes the commitment to spend the rest of her life with Ravi while gazing at him. Her mother asks her to put her plans with Malhar on hold and bans her from exalting her love. Kavya explains her strategy and pledges to expel Pratiksha. Tonight, something bad is going to happen. What Ravi sees tonight will cause him to expel her from his life as well as the house. What her daughter was planning astonished her mother. Everything is explained to her by Kavya. As soon as she arrives at the house, she will start a scene. As they have a half-hour window to get to the residence, they begin to keep track of the passing seconds. Kavya suggests Ravi to go back home seeing him stressed.
In the next episode, Ravi would be seen asking Pratiksha to see him at the court next. Would Pratiksha be able to prove her innocence? To know what happens next, keep watching Dharam Patni.