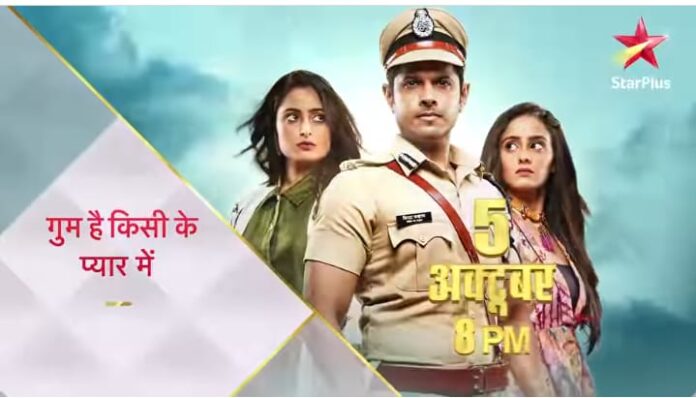 Ghum Hai Kisi key Pyaar Meiin Upcoming Story, Spoilers, Latest Gossip , Future Story, Latest News and Upcoming Twist, on Justhowbiz.net

Episode begins with Virat putting sindoor on Pakhi's forehead. Virat's phone rings and Pakhi comes to reality where she sees Virat handing over the mangalsutra to Samrat and goes to the side to talk. Samrat puts the mangalsutra around Pakhi's neck. They stand up for phere. Pandit ji says in first phere, Samrat will go ahead. He goes but stops as Pakhi doesn't move. She just keeps on seeing Virat. Samrat asks her if there is any problem? Pakhi says no. They start taking Phere.
Virat says to Kamal why didn't he tell him earlier and says I will come immediately, nothing will happen to Sai. The call ends. Virat comes to his dad and says I need to go as Sai has been kidnapped. He is asked who is Sai. Virat says inspector Kamal Joshi's daughter. Virat then asks Samrat if there is any problem in phere. Kaku says what will be the problem in phere. Virat then asks Pakhi if she has any problem. Pakhi is emotional but says no. Virat takes permision from elders and leave.
.After he leaves, Karishma says how come Virat left in between of Samrat's wedding. Virat's dad say for Virat work is first that's why. Ashwini goes to Virat who is almost on the entrance. Ashwini asks him if there is any problem. Virat says I didn't get you. Ashwini says is there any other reason for you to leave in between of Samrat's wedding? Virat says even if it was then nothing is more important than work. Virat says I am going, then he corrects himself saying I am coming. Ashwini says hmm your lover's advise. Virat calls Kamal and says you guys surround the mandir area. kamal says they have specialised guns. Virat says don't fire till the time I come. The call ends.
Here Sai is brought to the wedding venue. Vithal and his wife praise how amazing and dashing Jagtap is looking in groom's costume. Sai says I don't want to marry. She requests Jagtap's guys that I am like your little sister please let me go. Jagtap then takes her to lakeside instead of mandap. Sai joins her hands and request Jagtap to leave her. Jagtap says don't join your hands like this, your hands are made to love me. He makes Sai's hand touch his face. Sai's bangles break and wound Sai's arm. Jagtap says see I have a surprise for you. Jagtap shows Sai a scarecrow dressed in police uniform. Jagtap says you didn't recognize, let me introduce him, he is my friend Inspector Kamal Joshi, and your abba. Sai cries and looks on.
Here, phere is complete. The bride and groom are declared as husband and wife. The biddai time comes and Pakhi hugs her dad and cries. Her dad requests Samrat to always keep her happy. Samrat nods. Karishma thinks yes both Samrat and Virat will keep her happy. She smirks. Pakhi's mom says I always used to tell you to get married and today when you are going I want to stop you. They both hug. Vaishali requests Mansi to consider their only daughter, her daughter too and forgive her mistakes. Kaku interrupts and says Pakhi is Bahu of our house that's an honour for her, and Bahus of our family never do any mistake. Vaishali nods. Ashwini says don't worry Pakhi will get lots of love in our family. Karishma smirks and thinks ofcourse.
Here, Sai is shocked to see that someone juts shot the head of the scarecrow. Jagtap says your dad might come here and say that he is taking you but if you go with him then this will be the result because look there is my friend who is a sharp shooter and never misses any aim. Sai cries. Kamal hears Sai's voice and bullet sound. Kamal says I am going. Kale says but ACP sir said to wait. Kamal says you all stay here, I am going. He calls for Sai. Jagtap says look here he comes. He takes Sai to mandap. Kamal goes to find Sai but only sees a scarecrow dressed as policeman. Virat tries calling Kamal but his phone is out of network coverage area. He then calls Kale, who informs him that Kamal went to the Mandir. Virat speeds up his car.
Here, Jagtap and Sai come to mandap. Jagtap asks his parents how is he looking. They say amazing. Vithal asks the pandit to start and make the marriage happen quickly. Jagtap is given a thread to be tied to Sai's wrist. He ties. Sai is also given. Sai doesn't tie. Jagtap's mother shouts at her to tie fast. Sai ties it angrily. Kamal comes and sees it from far. Virat reaches the spot and asks everyone to be alert.
Episode ends.
Precap – Kamal says don't worry Sai now I am here come with me. Sai says no I can't, I want to marry Jagtap. Jagtap smirks. There, Pakhi is about to put her first foot inside her new house but he trips over the altaa plate and her first foot print is in reverse direction. Kaku says this is a apshagun, god knows what bad thing will they have to see.