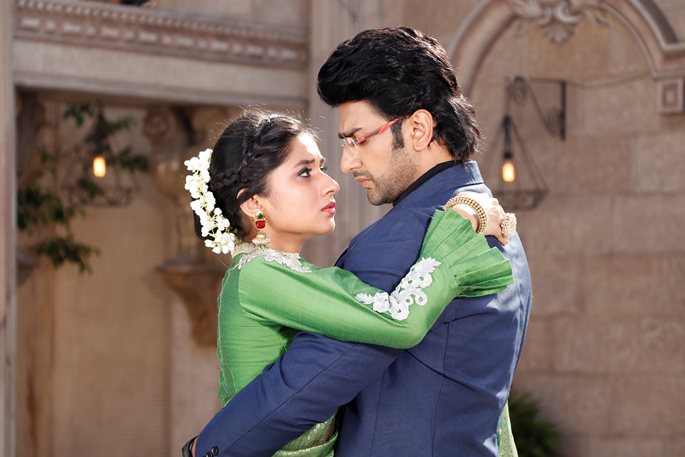 The episode starts with everybody getting worried when Guddan faints. Saraswati smirks thinking that her plan of mixing medicine in Guddan's water worked and pretends being worried. Akshat asks Guddan what happened. Guddan gets up and says that she just twisted her ankle. After assuring that she is fine, Guddan asks who the winner of the dance competition is. Saraswati says that it would be just a formality as she is the sure shot winner. Akshat says that winning and losing don't matter and even though everybody performed amazingly, the winner of the competition is Durga. The latter thanks him.

Guddan asks Saraswati not to be sad as she can show her skills in the next cooking competition. Ganga says that she is waiting for acting competition. Akshat tells that the next competition is cooking competition only and he will judge the dish by looking at it only since he cannot taste. Guddan keeps feeling dizzy. Akshat greets everybody and asks Guddan to stay on call.

Saraswati is frustrated since she planned so much but Durga won the competition. She calls a man and scolds him for ruining her plan and not mixing anything in Guddan's food.

On the other hand Akshat asks Guddan what happened as he knows that she didn't twist her ankle. Guddan tells him that she is feeling dizzy since few days. Akshat says that he will call a doctor who is his friend and he will come to check her up.

Later Saraswati's informer tells her that a doctor has come to check Guddan. Saraswati laughs evilly saying that they might not be able to harm Guddan but she will enjoy after what is going to happen with Akshat.

Akshat tries calling Guddan but she doesn't pick his call up so he is tensed. Someone opens the door of Akshat's room. Akshat goes to check and it's a guy from laundry who has brought a bag with Akshat's clothes. Akshat takes the bag thanking him. The guy calls Saraswati and tells her that the work has been done.

Akshat video-calls Guddan and asks her what happened. Guddan cries. Akshat says that if it's another prank, it isn't funny. Guddan says that nobody plays a prank while crying. Akshat asks her why she is crying then. Guddan reminds him how they used to romance before the lockdown. Akshat is not able to understand so he asks her to tell directly what happened. Guddan takes some clothes and put them on her stomach asking him if he understood now. Akshat is confused. Guddan finally reveals Akshat that she is pregnant. Akshat gets shocked and emotional. Ge remembers their romantic moments together and gets teary eyed. Guddan is emotional too and says that he is going to be father. Akshat says that he is very happy as she has given him the biggest happiness of his life. Guddan says that she is very happy but also sad since he is not with her. Akshat promises her that he will take care of everything and she shall not worry about anything. He says that he shall immediately give the news to the mother and the daughters-in-law. Guddan says that she doesn't want anybody to get stressed since they are far from each other so they should wait before giving them the news. Akshat agrees and asks her to take rest before cutting the call. They say I love to each other.
Durga is cooking when Lakshmi calls her. Lakshmi says that she is missing her cake a lot so she wanted to make it. She asks Durga its recipe so. Durga tells her the recipe. Lakshmi gets happy and says that she will make this for the cooking competition. Durga understands her tactic. She says that she will win also tomorrow's competition.
Akshat makes a list to send to Guddan when he gets her calls. He gets shocked seeing her lying on the bed and shivering but just then Guddan starts laughing. Guddan scolds her for such a bad prank. Guddan tells him that it's a scene from her next movie and asks him to help her with rehearsals of the movie. Akshat tells her that she doesn't need to rehearse. Guddan says that she is getting bored. Akshat asks her to stop the drama and be careful. Guddan asks him not to talk with her rudely. She scolds him. He tries making her understand that he was worried for her but she cuts the call.

Guddan complains about Akshat. She gets Durga's call and shouts since she is frustrated with Akshat. She apologizes to Durga for busting out her anger on her. Akshat calls Lakshmi who asks him if Guddan is fine. Akshat complains about Guddan's behaviour. On the other hand, Guddan complains about Akshat. Lakshmi and Durga try to make them understand that they shall behave maturely but in vain.
Lakshmi and Durga call each other. Durga says that there is surely something Guddan and Akshat are hiding from them but they shall solve their argument before discovering it. Durga suggests doing a family meeting.

Later Durga starts a video conference with Guddan, Akshat, Saraswati, Lakshmi and Ganga. The latter is concerned about Guddan who says that they shall tell Akshat to mind his language. Akshat blames her for being so over sensitive. Guddan says that isn't a sin. Akshat says that taking care of his wife isn't a sin as well. Guddan asks him if he is willing to take care of her by talking rudely when she is in such a condition. Everybody gets confused hearing that. Guddan is forced to reveal everybody about her pregnancy and they happily congratulate her. Guddan says that she is going to give immense love to her baby. Saraswati thinks to kill Guddan's baby to take revenge from her and Akshat.

Episode ends