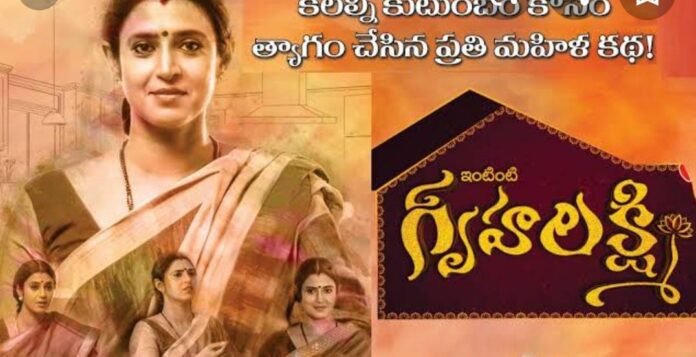 Intinti Gruhalaxmi Upcoming Story, Spoilers, Latest Gossip, Future Story, Latest News and Upcoming Twist, on Justhowbiz.net
Episode starts with Gayathri came to Tulasi place and she calls for Ankita. Everyone comes out. Tulasi offers to get her pachadi. Gayathri says you're insulting my daughter by comparing her with Shruthi that's why I came to question you about it. Parandamayya says Tulasi can never insult Ankita. Tulasi asks why Ankita called her mom, without telling to her. Ankita says you guys are comparing me with Shruthi which I can't bear. Abhi tells to his mom that they decided to leave home. Tulasi asks why they are taking this big step for small misunderstanding. Gayathri about to take Abhi and Ankita with her without listening to Tulasi pleas.
Shruthi stops them telling she don't like to break their family and tells them she will leave from home. Ankita says we don't need your pity. Shruthi says Tulasi aunt can't bear if you leave from home. Ankita says Aunty hurted me for you and she won't feel bad even if I go out because you're important to her not me. Shruthi says Aunty loves you and she just have pity on me. Ankita says if she really loves me than she can never compare us. Gayathri says my daughter is not orphan like you and they won't stay here.
Shruthi begs her to not break the family. Prem says don't plead them because their is no mistake of yours and Mom. Abhi says still you're supporting Shruthi than why we need to stay here. Tulasi says families can't broke for small reasons. Gayathri ignores her words and leaves home taking Abhi and Ankita with her. Tulasi feels bad.
Nandu and Lasya reaches to home. Anasuya informs to Nandu how Abhi and Ankita left home with Gayathri. Nandu goes to Tulasi and scolds her for breaking the family with her decisions and asks her who will bring back Abhi and Ankita back to our home. Parandamayya supports Tulasi and tells him that Ankita left home because if misunderstanding. Nandu says you always support your daughter in law but you never respect your son choices.
Parandamayya says you both are same to me. Nandu says no, you're partial towards her and one day Tulasi will break our complete family than you will get to know about her and he leaves from that place frustratingly. Parandamayya consoles her but Tulasi says she failed to bind her family together. Parandamayya says they will return once they realise the mistake and I will bring them back. Tulasi says she will make Abhi realise his mistake and she goes to get them back.
Gayathri instigates Abhi and Ankita against Tulasi and she asks them to plan for their future and tells them to don't go back to that home even if someone came to take you guys. Abhi agrees and about to go upstairs. Tulasi reaches to Gayathri house and request her to send kids with her but Gayathri denies. Tulasi request Abhi to come with her but he stands silently. Tulasi request Ankita but she denies than Tulasi begs Gayathri to understand her situation. Gayathri says they are out of your life, understand this fact and leave from here. Tulasi asks Ankita to tell her opinion. Ankita leaves saying their hearts are broken which can't return to normal position. Tulasi leaves in tears.
Anasuya questions Tulasi about kids. Tulasi says they didn't come back. Anasuya accuses
Tulasi for breaking the family. Parandamayya tries to stop his wife but Anasuya won't listen his version. Parandamayya says Abhi and Ankita will realise their mistake very soon. Anasuya says make your Daughter in law learn her mistakes because these problems are arising because of her job.
Episode ends.
Precap – Lasya orders Shruthi to get them Coffee. Tulasi stops her. Nandu raises his hand at Prem when he supports Shruthi.